A Chinese Dream to Reach Britain's High Street Ends With a Crash
(Bloomberg) -- When Chinese businessman Yuan Yafei met British Prime Minister Theresa May in Shanghai this February, he vowed to keep pushing for further economic collaboration between China and the U.K., where his Sanpower Group owned the 169-year-old department-store chain, House of Fraser.
But only six weeks later, Yuan's group was pulling back from the U.K., beginning a months-long bid to sell the retailer that had been battered by online rivals, a weakening pound and mounting costs. Billionaire Mike Ashley's Sports Direct International Plc agreed to buy the chain in August, but Sanpower was able to recoup only a little more than half the 155 million pounds ($258 million) it originally paid -- a shortfall that deepened a liquidity crunch at the Chinese conglomerate.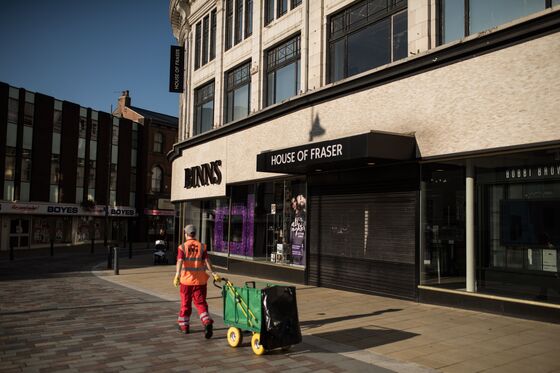 This week, people familiar with the matter said Sanpower's lenders have agreed to give the Chinese conglomerate an extension on debt from a global acquisition binge where it snapped up assets as varied as the British retailer, an Israeli chain providing elderly-care services and a California-based drug developer. Now Sanpower's future hinges on its ability to meet those commitments, sell assets and build on its health-care operations.
"The retail and health-care assets that Sanpower bought, including House of Fraser, were at expensive prices, and operations of the acquired businesses didn't meet expectations," said Gary Zhou, fixed-income director at China Securities International. After the government tightened credit, Sanpower faced a liquidity shortfall and these assets became a drag on its financials, Zhou said. The company declined to comment for this article.
The conglomerate has said it plans to dispose of around 10 billion yuan ($1.5 billion) of assets. State-owned publication The Paper reported in July that Sanpower plans to focus on its health-care businesses, a relatively new area the group entered into in recent years to capitalize on rising demand as China's population ages. Yet, even that shift to health-care comes with challenges because it's hard to tell how much profit these newer assets will produce and they may not generate sufficient cash, Zhou said.
| | | | | |
| --- | --- | --- | --- | --- |
| Announced | Sanpower Deal | Country | Industry | Value |
| 2014 | House of Fraser | U.K. | Retail | $258 million |
| 2014 | Brookstone | U.S. | Retail | $136 million |
| 2014 | Natali Seculife | Israel | Health | $70 million |
| 2016 | China Cord Blood | China | Health | $901 million |
| 2017 | Dendreon | U.S. | Health | $820 million |
Sanpower is joining a string of debt-laden Chinese conglomerates including HNA Group Co., Dalian Wanda Group Co. and Anbang Insurance Group Co. in reversing a global buying spree after struggling to manage debt. Its troubles offer a window into the hurdles some of these companies faced in brand new markets, and also the challenges awaiting them as they attempt to remake themselves.
Yuan, a former local government official, founded Sanpower in 1993 in Nanjing, a five-hour drive west of Shanghai. The company was best known at home as a computer retailer where customers can choose components of personal desktops and assemble them in stores. Then in 2014, it made international headlines for the acquisition of House of Fraser, the largest foreign retail deal by a Chinese company at the time.
Yuan, 54, originally had big ambitions for the British brand. He said he'd inject capital to revive the retailer and help refurbish its stores. He planned to open 50 outlets under the brand "Oriental Fraser" in China and help the company expand to Russia and the Middle East. Eventually only two Oriental Fraser stores were opened in China, one in Nanjing, another in the nearby city of Xuzhou.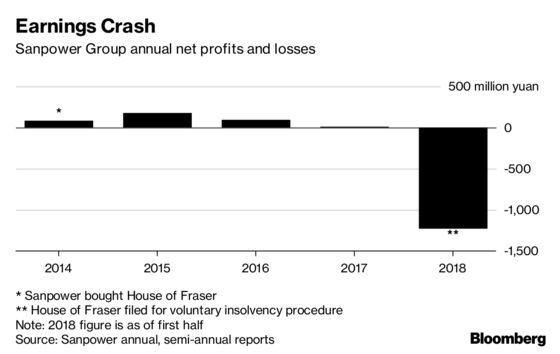 The cost of owning a historic British High Street brand also proved to be too high. Even before Sanpower took over in 2014, House of Fraser had already been struggling. After changing hands several times it was already starved of cash and had a hard time staying competitive in the digital age due to lack of investments. And it wasn't an easy task bringing the brand to China, where online behemoth Alibaba Group Holding Ltd. dominates retail.
"He was a passionate businessman. He definitely had the ambition to grow House of Fraser in China when he bought it," said Mark Logan, the former head of global communications at Sanpower. "But he never had the right leadership team or the right talent in Nanjing to look at new retail and to compete with what's happening in the China market."
More Coverage on Conglomerates
The Brexit referendum and the rising costs associated with the falling pound only worsened the problem. What Sanpower bought into was a struggling retailer which "didn't have the money to refurbish its store portfolio and customer numbers were dwindling," said Bloomberg Intelligence analyst Louise Parker.