After Poor Start, China Stocks Post Best Weekly Gain Since 2016
(Bloomberg) -- China's benchmark equity index surged Friday for its biggest weekly gain since 2016, rebounding from the start of the week when it fell to its lowest in nearly four years.
The Shanghai Composite Index added 2.5 percent for a weekly advance of 4.3 percent, with everything from banks and brokerages to airlines and liquor makers climbing. China's plan to cut taxes and lift consumption helped drive gains, and there was speculation state-backed funds bought shares. Indexes also rose in Hong Kong, where the city's tightly traded currency had its biggest increase in 15 years. Theories for the jump included rising borrowing costs, position adjusting ahead of holidays and stop-loss trades.
"China's pledge to boost consumption and further open up the financial sector spurred some short-term buying," said Ken Chen, a Shanghai-based analyst with KGI Securities Co. "Whether the gains will sustain will depend on whether China can deliver the policies that everyone has been expecting."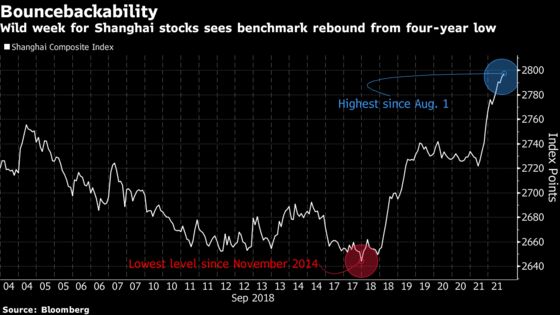 China's benchmark stock gauge has been one of the world's worst performers this year, battered by the trade dispute, a government campaign to cut debt and a slowing economy. The country also surrendered its claim to having the world's second-largest stock market along the way.
"Financial and property stocks are leading gains, and they are the traditional targets of the national team," Northeast Securities Co. analyst Zhengyang Shen said, referring to state-backed funds. "From the policy side, the government has vowed to cut taxes further to boost consumption, which has boosted confidence."
Shen said the Shanghai Composite could rally another 10 percent as many stocks are oversold. Air China Ltd. was a top performer on the benchmark, rising by the 10 percent daily limit for the first time since February, though it's still down 32 percent this year. The country's other big two carriers also rallied on the mainland and in Hong Kong.
Air China Set for Best Weekly Gain Since 2015 as Big Three Soar
Consumer stocks performed strongly after Xinhua News Agency said the government plans to boost consumption. Carmakers were among the biggest beneficiaries, with Great Wall Motor Co. jumping 8.4 percent, Chongqing Changan Automobile Co. rising 7.9 percent and SAIC Motor Corp. up 5.4 percent. Among consumer staples, Jiangsu Yanghe Brewery Joint-Stock Co. added 6.4 percent and Kweichow Moutai Co. rose 3.2 percent.
Autos Lead Rally in China Consumer Stocks on Government Boost
Much of the attention was drawn to Hong Kong as the local currency rose as much as 0.6 percent, a significant move given its tight trading band with the U.S. dollar. The city's Hang Seng Index rose 1.7 percent. Geely Automobile Holdings Ltd. was the best performer with a 11 percent gain, followed by China Shenhua Energy Co., which rose 6.7 percent.
"The weakness in the Hong Kong dollar was one of the uncertainties for the market," First Shanghai Securities Ltd. strategist Linus Yip said. "The stronger Hong Kong dollar will support stocks because over the past few months the currency was weak, which meant funds were flowing out of Hong Kong."
China's Offshore Bill Sales Seen Helping Squeeze Yuan Bears
What Analysts Are Saying About Equities: China Research Digest