China Investigates 'Serious' Violations by Energy Agency Chief
(Bloomberg) -- China is investigating the head of its National Energy Administration, the latest official snagged in President Xi Jinping's anti-corruption drive that's netted more than a million officials.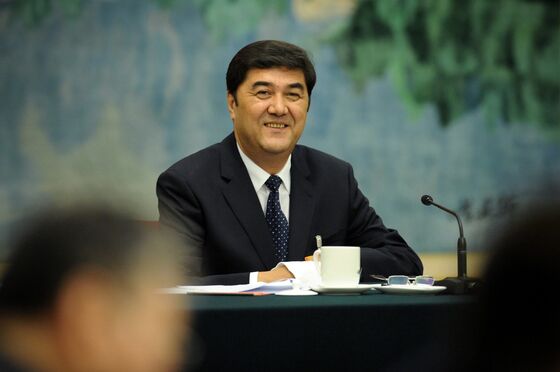 NEA Director Nur Bekri, 57, is accused of "serious" disciplinary violations, China's Central Commission for Discipline Inspection said in a statement Friday. Bekri, an ethnic Uighur and previously a long-time chief of Xinjiang autonomous region, is also vice chairman of the National Development & Reform Commission.
Bekri took over the NEA in December 2014, heading the government arm tasked with drafting energy laws and policies. While China's energy decisions are ultimately driven by NDRC, the top economic planning body, and the State Council, the nation's cabinet, Bekri was the public face of efforts by China, the world's biggest energy consumer, to use cleaner fuels. Some of these backfired, including a lack of heat in some regions last winter after a botched sprint to switch homes to natural gas, and the 2016 coal price spike amid efforts to ease coal output.
'Disciplinary Violations'
"This may have some impact on certain policies under development, possibly causing some delays because of the investigation of the top energy official," said Tian Miao, a Beijing-based analyst at Everbright Sun Hung Kai Co. "The investigation could also have impact on specific energy projects if wrongdoing during their development is found. It will have no impact at all on energy if Bekri's problems were related to his decades of government work in Xinjiang."
While the statement provided no details of the charges, authorities typically use "disciplinary violations" to describe people under investigation for graft amid the anti-corruption campaign that's netted over 1.5 million officials. The NEA's deputy director, Wang Xiaolin, has also been investigated for similar charges, official Xinhua News Agency reported in January. As well, one of Bekri's predecessors, Liu Tienan, was sentenced in 2014 to life in prison for taking 36 million yuan ($5.3 million) in bribes to approve projects.
During Bekri's NEA tenure, China built up strategic petroleum reserves as its crude output tumbled amid the crash in prices, assembled the world's largest array of renewable energy generation, started cutting outdated coal production capacity and pushed homes and factories to switch to natural gas. In that period, it overtook the U.S. and Japan as the world's biggest importer of oil and natural gas, respectively.
From 2008 to 2014, Bekri was also chairman of Xinjiang, holding essentially the same role as a provincial governor. He was head of the regional government during the 2009 Urumqi riots and internet blackout that followed. Rule in the autonomous region has recently come under more scrutiny amid accounts that as many as 1 million of its Muslim population are being held in "re-education camps," the result of a harder line taken by Beijing since Bekri left as it seeks tackle what it labels separatism and extremism.
"While we will need to wait for more information on the nature of the charges, Xi Jinping was clearly unhappy with the state of affairs in Xinjiang" after the management of Bekri and then Xinjiang party boss Zhang Chunxian, said James Leibold, a senior lecturer at La Trobe University in Melbourne. "Their 'carrot and stick' approach to stability maintenance work was deemed ineffective" and the current party boss, Chen Quanguo, "was given a strong mandate to implement more forceful policies to bring stability to the region at all cost."
Xinjiang, like many parts of China, is struggling with an overcapacity of power generation. During the first half of the year, it had the country's worst wind and solar power curtailment rates, or capacity that's idle because of grid congestion. The NEA also banned the construction of new coal-fired plants earlier this year in Xinjiang and 20 other provinces that were projected to have an overcapacity of coal-fired power by 2021.
"Developers were attracted by abundant and strong resources in Xinjiang, such as coal and wind, and built lots of power projects," said Nannan Kou, a Beijing-based researcher from Bloomberg NEF. "However, idle capacity has occurred as there's not enough local demand or transmission lines to deliver electricity elsewhere."