39-Year-Old Founder's Wealth Jumps to $5.3 Billion After IPO
(Bloomberg) -- Wang Xing, founder of Meituan Dianping, has seen his net worth surge to $5.3 billion after the initial public offering of the food delivery giant.
Meituan shares closed at HK$72.35 on Thursday, 5.3 percent above the HK$69 price of the IPO. After Hong Kong's second-biggest technology listing of the year, the unprofitable company has a market value of $50.9 billion, making it worth more than General Motors Co.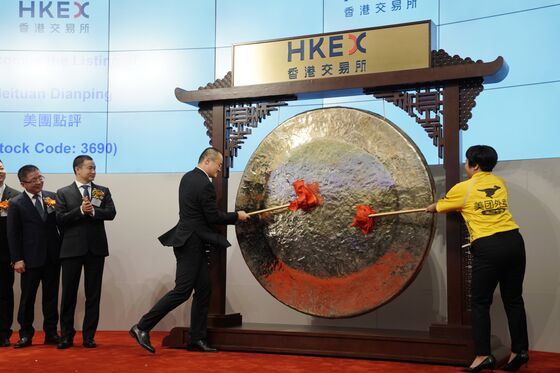 Wang has aggressively built Meituan through deals and expansion, turning what started as a Groupon Inc. type service into one that now spans food reviews, hotel bookings and a host of other online services. The IPO will help fund its increasingly costly battle for customers in China, where it's up against Alibaba Group Holding Ltd. in food delivery and Didi Chuxing for ride-hailing and bike-sharing.
"We all have to approach them like an Amazon. I don't believe they will be profitable in the short term," Ben Harburg, managing partner of MSA Capital and an investor before the IPO, told Bloomberg TV. "We understand what they are trying to do with this, we think there will be patience. They might suffer with the share price in the short-term but in the long-term this can be a massive, massive business."
Meituan raised $4.2 billion in its IPO and has yet to say if it will exercise a green shoe option to sell more stock.
Wang, 39, is the latest in a recent rush of newly-minted Chinese billionaires as founders take their startups public. Five tech IPOs have helped at least 16 people ring up a combined $48 billion of net worth at the time of the IPOs, according to data compiled by the Bloomberg Billionaires Index. That includes founders of smartphone maker Xiaomi Corp. and Colin Huang, who is now worth $11.9 billion after the successful listing of his e-commerce platform Pinduoduo Inc.
Backed by Tencent Holdings Ltd., Meituan's clash with Alibaba has caused both to spend billions to seize control of China's $1.3 trillion food delivery and online services industry. Meituan lost $2.9 billion in 2017, partially on changes in the value of its preferred stock, but also reflecting the brutal battle to win over consumers with subsidies.
Yet even without the accounting adjustment, its operating loss last year was 3.8 billion yuan ($555 million). In the four months ended April, revenue surged 95 percent to 15.8 billion yuan while its loss almost tripled to 22.8 billion yuan, which includes the impact of acquiring unprofitable bike-sharing startup Mobike.
"We have our largest core business, food delivery, that's growing super fast and it's also very close to break even," Wang said in an interview with Bloomberg TV. "We are going to become profitable in our more mature business and the same time invest in our new initiatives."
Meituan increased its market share of food delivery orders by 2 percent in the past 3 months, he said. The company is seeking to move up the value chain of food, including helping restaurants source ingredients.
The IPO trails only the $5.4 billion raised by Xiaomi for technology IPOs in Hong Kong this year. Meituan's market value is now larger than the smartphone maker.
Wang founded Meituan.com in 2010 as a group-buying site before a 2015 merger with Dianping, which provided reviews of restaurants and other local businesses. Wang will remain controlling shareholder, according to Meituan's prospectus.
The listing will make Wang the 327th richest person on earth, according to the Bloomberg Billionaires Index.
Meituan is the second company to list with weighted-voting rights in Hong Kong after Xiaomi. The city's market regulators tweaked rules this year to try and attract more of China's tech darlings, which like Alibaba have previously favored the U.S.