China Won't Devalue Yuan to Boost Exports, Premier Li Says
(Bloomberg) -- Hours after China and the U.S. announced their latest tariff salvos in the escalating trade war, Chinese Premier Li Keqiang said the nation wouldn't devalue its currency in order to make its exports more competitive.
"Recent fluctuations in the renminbi exchange rate have been seen as an intentional measure, but that isn't true," Li said in a keynote speech at the World Economic Forum in Tianjin on Wednesday. "One-way devaluation will do more harm than good to China's economy. China will by no means stimulate exports by devaluing the yuan."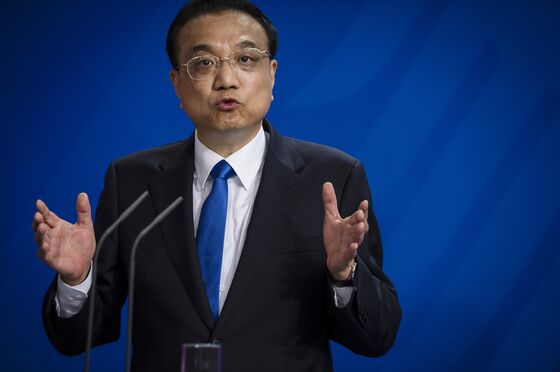 President Donald Trump has repeatedly accused China of artificially keeping its currency weak, although his government has yet to formally class Beijing as being a currency manipulator. While the yuan has lost ground amid the deepening trade tensions since June, its decline has mainly been a reflection of U.S. dollar strength and the nation's policymakers have consistently denied playing any role in its weakness.
"While China won't actively devalue the currency, that does not guarantee the renminbi will hold up at its current level. What they are trying to do is allow the market to play a bigger role in determining the value of the currency," said Michelle Lam, greater China economist at Societe Generale in Hong Kong. "It has been the line of Chinese policy makers and Premier Li just reiterated the message to Washington on this occasion."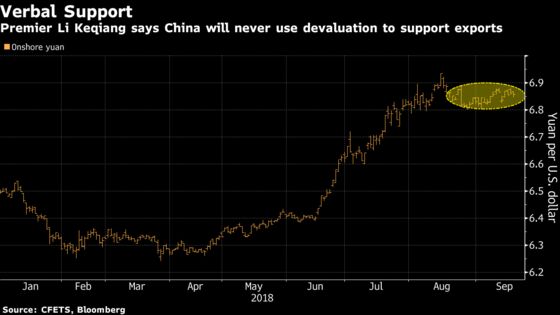 What our economists say...
Driving down the yuan at this juncture wouldn't be sensible, in our view. The authorities would not have forgotten the widespread financial market volatility in August 2015 triggered by an unexpected weakening of the yuan.
-- Chang Shu, Bloomberg Economics
The onshore yuan rallied after the comments and traded at 6.8535 per dollar as of 3:35 p.m. in Shanghai.
"The gains in yuan were a knee-jerk reaction to Premier Li's comments, which eased rising concerns of sharper declines as the China-U.S. trade war escalated over the past few days," said Gao Qi, a currency strategist at Scotiabank in Singapore. "The yuan will fluctuate in the near term based on developments in the trade war."
Qi said the currency is unlikely to weaken much due to possible central bank support and won't strengthen much due to ongoing uncertainties about the trade conflict.
As the domestic economy has slowed and fears of the impending trade war increased, the yuan has weakened. It's lost about 8.5 percent versus the dollar over the past five months.
Read More on the Trade War and China's economy
While policy-makers have implemented easing measures ranging from tax cuts to central-bank liquidity injections, they have refrained from broad-based fiscal or monetary stimulus for now.
Li said that policy makers are currently facing more difficulty in keeping stable economic progress, and will make greater efforts to prioritize employment. The government is also seeking ways to further cut taxes and fees, he said, while the central bank will stick with "prudent" monetary policy.
China has accelerated the pace of financial opening this year, seeking to lure more foreign investment as the yuan weakens and threats to output increase. Growth in the world's second-largest economy is forecast to slow this year to 6.6 percent, roughly in line with the official target.
Li's comments detailed measures to support the economy that have already been announced. He didn't directly reference the trade war tension that has spiked in recent days.
That's in contrast to Trump, who on Monday said the U.S. will immediately pursue additional tariffs on about $267 billion of Chinese imports if Beijing strikes back against American farmers and industry. Such a move would mean that roughly all U.S. imports of Chinese goods -- worth about $505 billion last year -- would be subjected to tariffs.
Trump doubled down on that threat Tuesday, vowing punitive measures against China if it targets politically potent U.S. agricultural products for retaliation.
"China has openly stated that they are actively trying to impact and change our election by attacking our farmers, ranchers and industrial workers because of their loyalty to me," Trump said on Twitter. "What China does not understand is that these people are great patriots."
Li repeated the government's position that the current global trading order centered around the World Trade Organization should be upheld.
We "must uphold multilateralism, the rules of free trade," he said. "No matter what changes are needed to the rules, it brings benefits. If there are problems, negotiation is needed to solve them."