Mangkhut Moves Into China As Hong Kong Lowers Warnings
(Bloomberg) -- Typhoon Mangkhut is losing power after making landfall in China and leaving Hong Kong with roads blocked, buildings damaged and low-lying areas flooded. The death toll in the Philippines rose to more than 50.
More than 2.45 million people have been relocated and over 48,000 fishing boats returned to ports in China's Guangdong province as of 5 p.m. on Sunday, when Mangkhut made landfall, according to Xinhua News Agency. A 40,000-ton-category vessel with 73 people on board was blown off its anchoring at Huizhou port this morning, China's Central Television reported.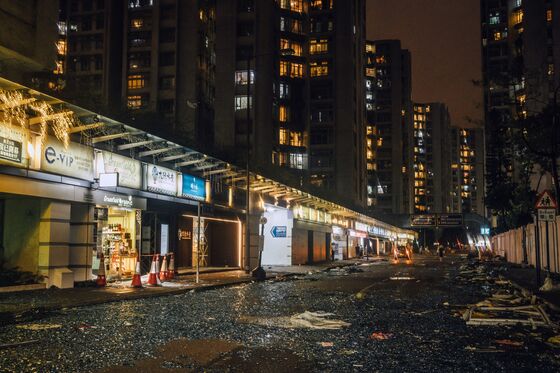 Mangkhut is set to weaken as it passes over inland areas of South China. The Hong Kong Observatory said it will consider whether to lower its warning status by one notch to Strong Wind Signal No. 3 before 6 a.m., which would allow stock trading to continue Monday as normal. All schools in the city, including six universities, will be shut.
Macau suspended all casino operations for the first time as Mangkhut approached, saying it would review the move once the typhoon passed. The gaming hub has lowered its typhoon signal to No. 8 from the highest No. 10 on Sunday evening.
While the casinos may be able to reopen by early Monday, it will take "a day or so" for traffic to return to normal given how many flights and ferries were canceled, said Grant Govertsen, analyst at Union Gaming Securities Asia Ltd., in a note.
Earlier, Mangkhut brought heavy winds and rains to Hong Kong, blowing out apartment building windows and toppling scores of trees. About 213 people had sought medical treatment in the city's hospitals. Macau reported seven injuries. In the Philippines, President Rodrigo Duterte appeared on television to pledge aid to storm-hit regions.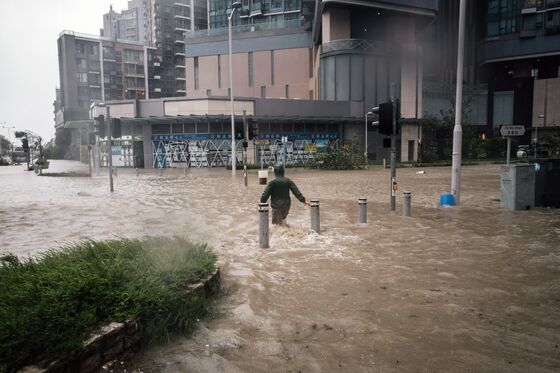 Images of a residential apartment and an office building with their windows blown out circulated on social media in Hong Kong. A crane fell off a building at a construction site, the Mingpao newspaper reported. Fallen trees forced closures of roads and a tunnel. The government said 1,219 people have sought sanctuary in 48 temporary shelters set up in various districts. Residents in the flood-prone Tai O village and Lei Yue Mun were evacuated as sea levels continued to rise.
Almost 900 flights were canceled in Hong Kong on Sunday. In China, all flights at Guangzhou International Airport were scrapped through Monday morning.
Cathay Pacific Airways said it now expects a gradual return to scheduled flight operations from Monday, but there'll still be delays and some cancellations.
Electricity to 7,000 customers were disrupted in several districts across the city, according to power utility CLP Power Hong Kong Ltd. In China, power disruptions affected 168,700 users in Guangdong, with 81,900 people still without normal service, Xinhua reported.
On Saturday, the typhoon tore across the Philippines' northern island, killing more than 50 people, many of them in landslides, according to the government.
President Rodrigo Duterte appeared at a televised Cabinet meeting following an aerial inspection of the affected areas and pledged funds following an for the recovery. Food supply is sufficient and prices are stable even in affected areas, Trade Secretary Ramon Lopez said at the meeting.
Availability of cheap rice should be ensured to avoid price spikes, Lopez said, adding that supermarkets have also agreed to sell grain from the government's food agency.
"Agriculture is badly hit," Francis Tolentino, an adviser to Duterte, said earlier by phone.
Impacts of the storm were felt as far away as Taiwan, where high waves caused one death, according to the island's government. Heavy rains and winds knocked out power for a short period in more than 12,000 homes.