The Secretive Chinese Shadow Banker in Short Sellers' Crosshairs
(Bloomberg) -- Short sellers are once again taking aim at Zhang Zhenxin, the secretive Chinese tycoon whose dealmaking spree in recent years has spanned shadow banking, insurance, cryptocurrency mining and artificial intelligence.
Zhang has been using "sham transactions" to inflate the value of Hong Kong-listed Chong Sing Holdings FinTech Group Ltd., according to Bonitas Research, the activist short seller founded by Matt Wiechert. Chong Sing said the allegations, published in a report on Thursday, were "groundless and contain various misrepresentations." Zhang, who rarely gives interviews, couldn't be reached for comment.
The critical report, which follows similar research on Chong Sing from Anonymous Analytics in May 2017 and at the end of 2016, is the latest to question the financial propriety of an acquisitive Chinese tycoon. Businessmen who relied on the nation's sprawling shadow banking system to fund deals have come under increasing pressure over the past 18 months as a government crackdown on the industry made financing tougher to come by.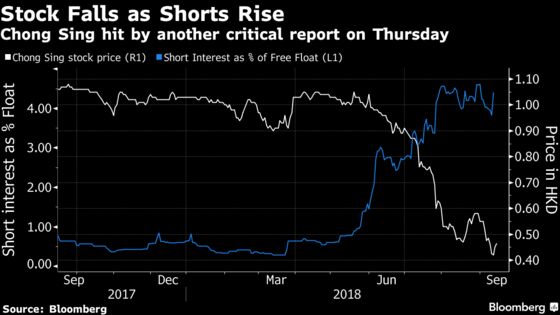 Zhang owns 17 percent of Chong Sing, whose main business is non-bank lending in China, and sits on the company's board, according to its 2018 interim report. He's also chairman of UCF Group, which has invested in everything from a Hong Kong insurer to the artificial intelligence program that beat the top-ranked human at the complex board game AlphaGo. UCF's recent donation to Imperial College London for research on big data and medical robotics was announced as Chinese leader Xi Jinping visited the school as part of a U.K. trip in 2015.
Zhang studied finance and economics at Dongbei University in China's northeast and worked as a manager at Dalian Shenyin & Wanguo Securities, Chong Sing filings show. He went on to chair one of the first companies specializing in financial guarantees in the northeastern Chinese city of Dalian, and has accumulated licenses for cross-border payments, the filings show. UCF backed the proposed acquisition of Hong Kong Life Insurance Ltd. in March 2017.
Zhang began amassing a stake in Chong Sing, formerly known as Credit China Holdings Ltd., in 2013 and became a non-executive director in July 2015. His holding in the company was worth $573 million at its peak in July 2017, but has since slumped to about $233 million. The stock has lost more than half its value this year.
Chong Sing's predecessor company acquired a slew of businesses, including P2P lender Weshare in 2016.
Weshare quickly became a growth driver for Chong Sing, which reported a surge in its user base to almost 27 million as of June from 2.5 million at the end of 2015. It's "lightning borrowing" service lends up to 10,000 yuan ($1,459) to smartphone users, relying on algorithms to approve the loans in under a minute.
Transactions through the service climbed more than eight-fold to 63 billion yuan last year and the group expanded to Southeast Asia, according to company filings. But as regulatory warnings and a string of frauds shook the P2P market, Chong Sing cut its exposure. Weshare transactions fell to 6.3 billion yuan in the first half.
"Chong Sing is not just a bunch of mavericks," CEO Phang Yew Kiat said in a phone interview in August, adding the company knows how to "jam the brakes." The group also sold a crypto-mining operation in the Republic of Georgia to reduce risk, Phang said.
Bonitas Research said Chong Sing has inflated the value of some businesses to secure financing from creditors and pumped up its 2017 profits using dubious accounting linked to an asset disposal.
The research firm issued a price target of zero for the stock, which had a short interest amounting to about 4 percent of its free float as of Wednesday, according to data compiled by IHS Markit and Bloomberg. Chong Sing rose 5.6 percent to HK$0.475 at 2:07 p.m. on Friday.