China Lender Sinks After Short Seller Says Shares Worth Zero
(Bloomberg) -- Chong Sing Holdings FinTech Group Ltd. fell to a three-year low in Hong Kong after short seller Bonitas Research questioned the company's financial reporting and said the stock is worth zero.
Chong Sing pumped up its 2017 profits using dubious accounting linked to an asset disposal, Bonitas Research, started by former Glaucus Research Group co-founder Matt Wiechert, alleged in a report published Thursday. The company also inflated the value of some of its businesses to secure financing from creditors, according to the report. Chong Sing said in a statement that the report contained "malicious speculations, false allegations and obvious factual errors." The company said it would respond in more detail at a later date.
The shares, which were up as much as 4.8 percent in early trading, fell as much as 9.5 percent to 38 Hong Kong cents after the report came out. Chong Sing, traded on the city's Growth Enterprise Market, has lost more than 60 percent this year. Short interest was about 4 percent of the company's free float this week, with traders needing about 20 days to cover their positions, according to Markit Ltd. data as of Sept. 11.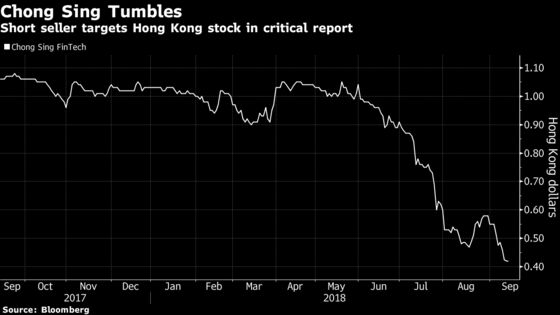 Chong Sing invests in financial technology-related markets such as third-party payments, online lending and blockchain. Its third-party payment platform UCF Pay had about 5 million active users through June, and almost 27 million users were registered on its consumer-finance platform Weshare, according to its interim report. While the company is based and listed in Hong Kong, most of its revenue is from China.
Wiechert started Bonitas Research in Texas after parting ways with Glaucus co-founder Soren Aandahl. Shares of Hosa International Ltd., another of Wiechert's Hong Kong bearish targets, are suspended from trading after losing almost 90 percent of their value following his critical report. Hosa denies the allegations and said it's seeking an independent investigator.
Previously known as Credit China FinTech, Chong Sing has been the subject of critical reports before, in May 2017 and at the end of 2016. The stock gained 11 percent last year.
Activist short sellers have swept Hong Kong for targets in recent years, with some -- including Carson Block -- alleging that links between equity markets in the city and China facilitate stock manipulation. Short sellers borrow shares, sell them, and then aim to buy them back at a lower price to pocket the difference. Click here for an explainer.