Chinese Tech Leaders Are Crushing U.S. Peers
(Bloomberg) -- Risk appetite is returning to the most important -- and among the most battered -- pillar in emerging-market equities.
The Invesco China Technology exchange-traded fund, known by its ticker CQQQ, went on a tear Thursday, outperforming its U.S. technology peers by the most for any day this year.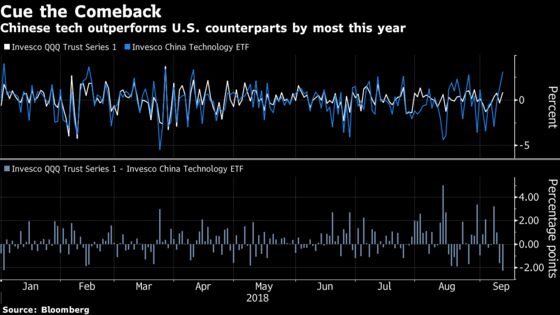 Optimism that another round of trade talks between the U.S. and China will ease tensions between the world's two largest economies combined with Turkey's larger-than-expected rate hike today helped shore up investor confidence that embattled developing nations will do what it takes to get their houses in order. The result: U.S. dollar weakness, accentuated by data showing core inflation pressures moderating, is helping to fuel the outperformance of foreign assets.
Technical indicators "suggest to us that the bottom is likely in for Chinese tech stocks," Naufal Sanaullah, the chief macro strategist at EIA All Weather Alpha Partners, said Thursday.
If the euro rises above 1.17 relative to the dollar, "we anticipate a durable rally in emerging market and Chinese tech stocks, as the lion's share of variance in emerging market stocks is explained by variance in the U.S. Dollar Index, of which the euro is the largest component," he added.
As Chinese tech goes, so too go emerging-market equities. The so-called BAT trio of Baidu, Alibaba and Tencent account for roughly 10 percent of the MSCI Emerging Market Index. The 21-session correlation between the China tech ETF and the EM benchmark gauge is at its strongest level in more than two years.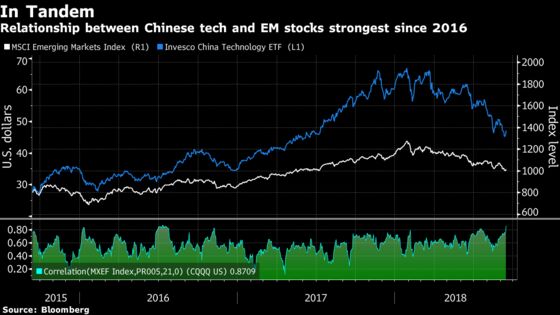 A bullish bet on the U.S. tech quartet known as FANG and its Chinese equivalent has been judged the most crowded trade in financial markets for seven straight months despite a wide performance gap between the two groups.
Strategists at UBS Asset Management as well as Eurasia Group have argued that flows were the chief reason for the divergence that's seen Chinese tech lag U.S. peers by 40 percentage points year-to-date. That is, investors indiscriminately fled emerging-market equities amid fears of trade wars and contagion, causing outsize impact on indexes relative to the U.S., where investors discriminated on a sector-by-sector basis.