China Revamps $12 Trillion Bond Market to Lure Foreign Investors
(Bloomberg) -- China is stepping up the pace of reform in its $12 trillion bond market, seeking to lure more foreign investment as the yuan slumps and threats to economic growth increase.
Over the past few weeks, authorities have announced a wave of new rules designed to help the nation's bonds gain entry into major international indexes. China's central bank has also eased restrictions on credit-ratings companies, while the cabinet has instructed officials to more quickly unify a market with multiple regulators and trading venues.
The changes will make Chinese bonds more attractive to foreigners at a time when the country could use more capital inflows to stabilize the yuan and fund corporate borrowers who've been squeezed by a crackdown on domestic shadow banking. The new regulations may also bolster the government's reform credentials as it wrangles with U.S. President Donald Trump's administration over tariffs and market access.
"The main direction of China's bond market is to integrate and open up," said Ming Ming, a former People's Bank of China official who's now head of fixed income research at Citic Securities Co. in Beijing. "This is definitely an important task regulators are pushing for."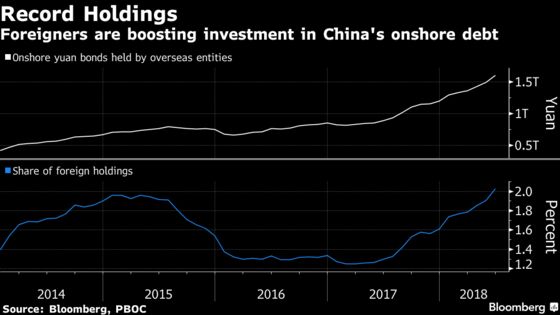 While some of the changes may appear minor at first blush, they could have a big impact on foreign investors. Among the most important tweaks: Overseas institutions will be exempt from paying certain taxes on interest gains, and they'll be allowed to conduct block trades through China's bond-trading link with Hong Kong.
The changes were among several needed for China's entry into the Bloomberg Barclays Global Aggregate Index in April 2019, a move that's expected to spur inflows worth billions of dollars. Bloomberg LP, the parent of Bloomberg News, owns the Bloomberg Barclays bond indexes.
Other recent announcements by China include a settlement process that will bring the country in line with other markets, and new rules for ratings firms that will allow those with licenses for the interbank bond market to apply for permission to operate on exchanges and vice versa. More efforts to reduce fragmentation are likely after the country's State Council highlighted a unified debt market as a priority in a statement last month.
"This is the latest step in the government's ongoing efforts to deepen the domestic bond market," Christopher Lee, an analyst at S&P Global Inc. in Hong Kong, said by email.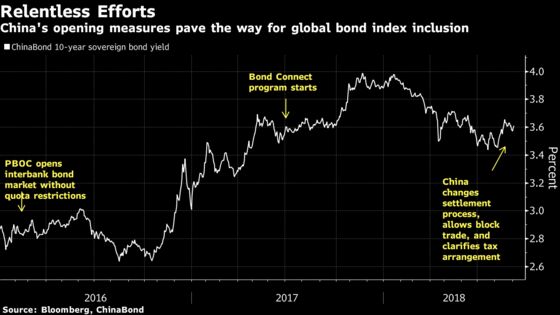 While more foreign participation could increase China's vulnerability to swings in global investor sentiment, analysts see several reasons to open up.
For one, inflows spurred by the rule changes could ease downward pressure on the yuan, which has dropped almost 8 percent against the dollar in the past six months. Foreign bond investors would also help diversify China's sources of funding, according to Cindy Chen, head of securities services at Citi Hong Kong, a unit of Citigroup Inc.
Overseas funds have already started to play a bigger role, increasing their Chinese bond holdings by 71.6 billion yuan ($10.5 billion) to a record 1.68 trillion yuan in August, according to Bloomberg calculations based on data from China Central Depository & Clearing Co. and Shanghai Clearing House.
The recent changes could help boost foreigners' share of the local market to as much as 10 percent from about 2 percent, said Julien Martin, general manager of Bond Connect Co., a joint venture between exchanges in Hong Kong and China.
"Accelerating bond market access for foreigners really helps Beijing to bridge the funding gap until Chinese investors are mature enough to lead the space," Martin said.