Asia Tech Stocks Diverge From U.S., With Biggest Gap Since 1998
(Bloomberg) -- Tencent Holdings Ltd. is no Apple Inc., and technology shares in Asia are feeling it: the sector is diverging from its U.S. counterpart by the most in two decades.
The MSCI Asia Pacific Information Technology Index has slumped 11 percent this year, while its S&P 500 Index version has rallied 17 percent. That's because company-specific news and the impact of industry demand have become front and center for Asia's behemoths.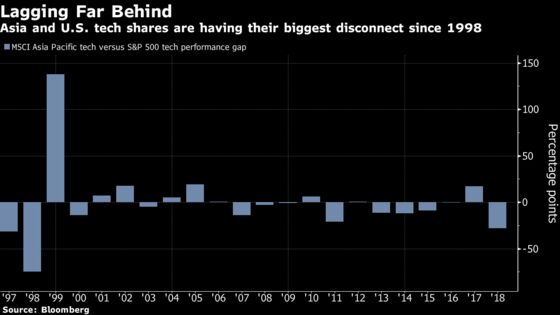 The culprits: internet giant Tencent, the biggest company on the Asian gauge, has lost more than $100 billion in value since January amid concerns over the sustainability of earnings from its lucrative games business. Samsung Electronics Co., the second-largest stock, saw almost $40 billion vanish because of weakening memory-chip demand.
Even U.S.-listed Alibaba Group Holdings Ltd. -- not included in the S&P 500 Information Technology Index -- has dropped more than 6 percent this year.
While Apple's growth plans still play a role in the performance of suppliers in Asia, investors also need to pay attention to the headwinds the region's companies face, from changes in China's policies to customer needs.
What's more, the future of U.S.-China trade is going to be key. Morgan Stanley analysts led by Shawn Kim recommended in July investors lower their exposure to tech shares in the near term amid trade-related risks and a lack of earnings upside.
The MSCI Asia Pacific Information Technology Index is trading at about 13.5 times estimated earnings for the next year, the least since March 2016 and more than 35 percent lower than its S&P 500 counterpart. In the past two decades, the Asian and U.S. gauges have moved in tandem every year except for 2015 and 2011.