China Stocks Near Four-Year Low as Support Attempts Lack Punch
(Bloomberg) -- China's policy makers are stuck with the most bearish equity market in years as their attempts to lift sentiment fail to gain traction.
The Shanghai Composite Index closed Wednesday within just half a point of its lowest level since 2014, ignoring an article in the Securities Daily expressing support for the market and suggesting value investors should start buying. The benchmark fell 0.3 percent to 2,656.11.
Many measures this year have spurred temporary rebounds, but they've failed to really instill confidence in one of the world's worst-performing markets. Just three weeks ago, state-backed funds purchased stocks in a move that helped trigger a two-day bounce after the benchmark first dipped below its 2016 closing low.
"It takes more than cheap valuations to trigger a reversal in the market," said Ken Chen, an analyst with KGI Securities Co. in Shanghai. "The selloff looks far from over in the medium term. The real bottom for A shares will only emerge when we see a firm rebound in the economy and China completes its deleveraging drive to resolve financial risks."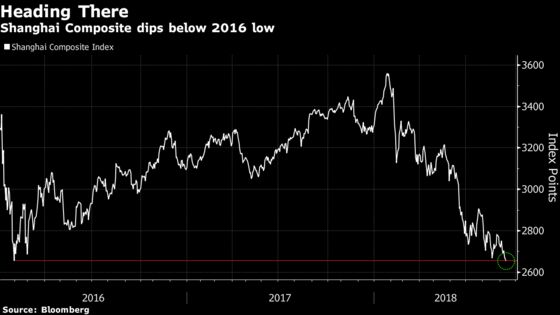 Hong Kong's equity markets aren't doing much better -- the city's benchmark Hang Seng Index fell into a bear market yesterday and was down 0.6 percent Wednesday.
China's recent steps pale in comparison to policies and restrictions the government imposed after the 2015 bubble burst, though those backfired as investors considered the moves too heavy-handed. This year's rout is now nearing $2 trillion, which would be the nation's biggest wipeout of wealth in any calendar year since the global financial crisis, Bloomberg data show.
Stocks have come under pressure from the government's push to cut leverage in the financial system, which triggered higher default rates and tighter liquidity. They faced further challenges as the yuan weakened and a trade dispute blew up with the U.S., outweighing the valuation argument to buy.
Concern that China's economy will slow is once again dominating sentiment, just as it did when the Shanghai Composite closed at the 2,655.661 level in January 2016. It may take more that low multiples for the market to bottom this time round.