Super Typhoon Intensifies in Pacific and Heads Toward Hong Kong
(Bloomberg) -- A super typhoon in the Pacific is gaining even more strength and is forecast to barrel through the Philippines and Taiwan this week before heading to Hong Kong and south China.
Mangkhut, classified by the Hong Kong Observatory as a super typhoon, is now forecast to pack maximum winds of 260 kilometers (162 miles) per hour by Friday before gradually weakening. That compares with a reading of 250 kilometers per hour earlier on Wednesday.
The typhoon, expected to be closer to south China by the weekend, will bring heavy rains and storm surges on its trail. It can affect as many as 54.2 million people, according to the United Nation's Global Disaster Alert and Coordination System.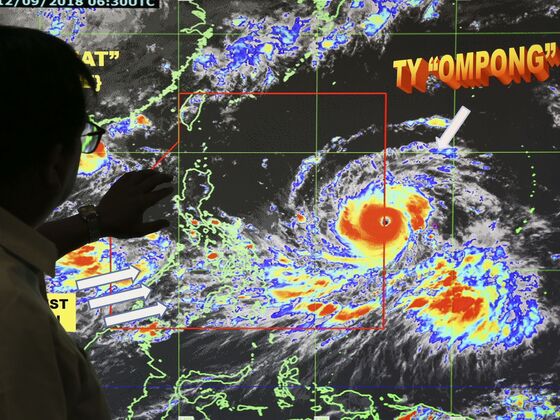 Mangkhut entered the Philippines on Wednesday afternoon, just after another storm left. About 20 cyclones pass through the disaster-prone country each year. In 2013, Super Typhoon Haiyan killed more than 6,300 people in the Philippines.
The Southeast Asian nation is anticipating that Mangkhut will be as strong as Haiyan, prompting the preparation of food, supplies and rescue as well as 1.7 billion pesos ($31.4 million) in stand-by funds, according to the disaster management agency.
Residents in coastal areas must be evacuated by Thursday when heavy rains are expected, disaster agency Executive Director Ricardo Jalad said. Water level in three dams in northern Luzon are already high and may have to be released as the storm moves westward, he said.
The strongest typhoon to hit the Philippines this year is also threatening farmlands in Luzon just before the rice and corn harvest. The staple grain is the second-biggest item in the Philippine consumer basket, and record prices boosted inflation to 6.4 percent in August, the fastest pace since 2009.
The storm may cause as much as 13.5 billion pesos in damage to crops, Agriculture Secretary Emmanuel Pinol wrote on his Facebook account Tuesday.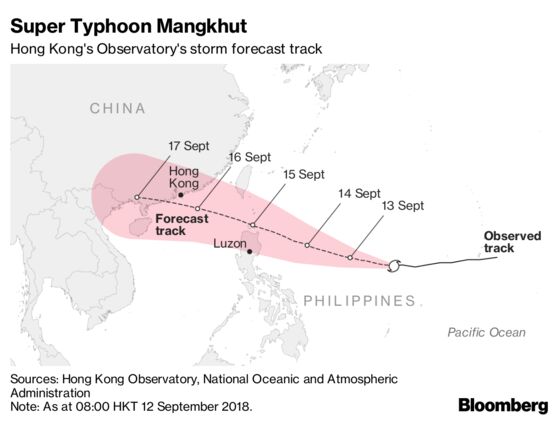 Named Ompong in the Philippines, the storm is forecast by the U.S. military's Joint Typhoon Warning Center to bring top winds of 145 knots (268 kilometers per hour) with maximum gusts of 175 knots. Mangkhut is named after a fruit in Thailand.
"Mangkhut is projected by the Joint Typhoon Warning Center to move very near the northern tip of the Philippines on its way to a landfall around Sunday on the southeast coast of China, perhaps near Hong Kong," Bob Henson, a meteorologist at Weather Underground wrote on the website. "By that point, Mangkhut is expected to weaken significantly, perhaps below Category 3."
It's expected to be 201 nautical miles (372.3 kilometers) off Kaohsiung in southern Taiwan on Sept. 15 before heading to Hong Kong, according to the U.S. agency.