China's Big Insurers Put Faith in Small-Cap Stocks Revival
(Bloomberg) -- China's biggest insurance firms are piling into the nation's beaten down small-cap stocks.
Inflows to exchange-traded funds tracking ChiNext index members this year surged to $3.6 billion as of Monday, compared with $36.5 million in all of 2017, data compiled by Bloomberg show. Insurers, which typically prefer blue-chip stocks, are now the largest buyers of ChiNext ETFs, holding at least 9 percent.
The ChiNext, which mostly features small caps and technology companies, has slumped 20 percent this year, including a 2.4 percent drop Monday. It climbed 0.3 percent on Tuesday. Other Chinese equity gauges have also tumbled this year, with the Shanghai Composite Index losing 19 percent. As the Chinese government tries to promote its innovative companies and insurers pile in, some analysts say signs of a bottom may be emerging.
"Insurers and pension funds are usually value investors and tend to buy ahead of others," said Guo Feng, head of wealth management at Northeast Securities Co. "Their buying could mean that an entry time to the ChiNext is emerging."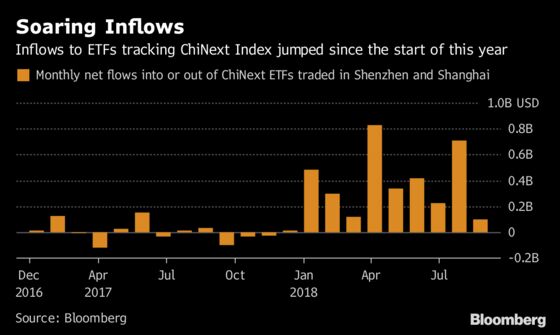 China Life Insurance Co. is the biggest holder of the two most popular small-cap ETFs, Huaan ChiNext 50 ETF and E Fund ChiNext Price Index ETF, despite not being even a top 10 holder of either fund at the end of last year. Ping An Insurance Group Co. and Agricultural Bank of China Ltd.'s insurance arm are also among the largest investors in the two ETFs.
"Institutional investors like insurers are flocking to the ChiNext, as the gauge seem to have corrected enough and China's economic transition will be powered by technology firms," Guo said. "They may keep buying ChiNext ETFs and selling blue chips, as the correction in the latter doesn't seem over yet."
The ChiNext gauge, which peaked in June 2015, felt the brunt of China's deleveraging campaign as higher funding costs pressured smaller companies. The ETF buying still only represents a small slice of the nation's $5.9 trillion equity market, but could provide support if investors plan to hold the stocks for the long term.
China Life Insurance holds $9.2 billion worth of equities, about 62 percent of which are large caps, according to Bloomberg data. Blue chips make up about 95 percent of Ping An's equity holdings.
Valuation plays an important role driving the inflows. The ChiNext trades at about 22 times forward earnings, near the lowest in over five years. At its peak around three years ago, the gauge was more than three times as expensive as the Nasdaq Composite Index. Now the ChiNext is cheaper than its U.S. peer.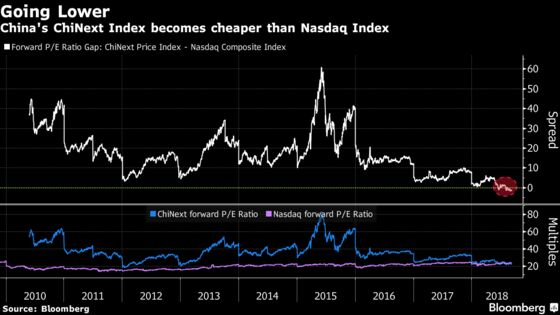 Earnings of ChiNext members slumped by 42 percent on-year in the first half of 2018, the worst since at least 2010, according to Bloomberg data, while Shanghai Composite members posted about 7 percent growth. Still, some sectors such as computer hardware, software and military defense companies are seeing the start of rebound, Northeast's Guo noted.
The buying of ChiNext stocks could be driven by hopes China will boost the technology sector to revive economic growth, said Song Jiangbo, Shanghai-based analyst at Wanlian Securities Co. "The 5G and new-energy companies listed in the ChiNext are the industries the government will support in the future," he said.