China's Consumer Inflation Rises Further as Producer Prices Ease
(Bloomberg) -- China's consumer inflation rose for a third month in August while producer prices eased.
The consumer price index rose 2.3 percent from a year earlier, compared with a projected 2.1 percent increase in a Bloomberg survey of economists, which was also the reading in July. The producer price index climbed 4.1 percent, compared with a 4 percent estimate and a 4.6 percent gain the previous month.
Spreading swine fever, floods in a key vegetable-producing region and soaring rents in big cities all have economists concerned about rising inflation risks amid the slowing economy, although the consumer price index still remains well below the government ceiling of 3 percent. The situation is undesirable for corporate China, as their profits can be eroded by a slowdown in factory-gate prices while their costs would rise with the consumer gauge.
Read More: Swine Fever, Flooding Raise Concerns Over Higher China Inflation
More expensive pork due to swine fever, rising oil prices on a strong dollar, and increasing tourism costs during the summer have all lifted consumer prices, said Yao Shaohua, an economist at ABCI Securities Co. Ltd in Hong Kong who accurately forecast the CPI result. "The CPI increase will remain slightly above 2 percent in the next few months. That's a comfortable level that wouldn't affect the monetary policy."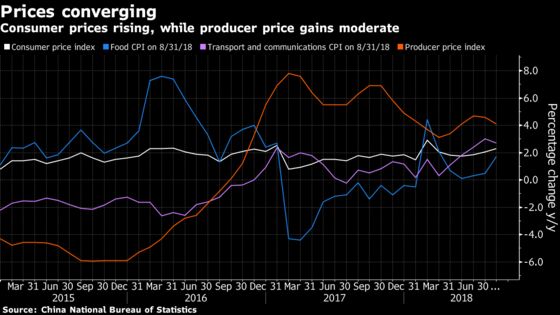 Food prices rose 1.7 percent in August, much faster than the 0.5 percent increase in July, according to the statistics bureau statement. Food, alcohol and tobacco prices were up 1.9 percent, contributing 0.55 percentage point to the overall inflation. Healthcare costs jumped 4.3 percent, and transportation and communication costs were up 2.7 percent.
The prices of eggs, vegetables and fruits rose 10.2 percent, 4.3 percent and 5.5 percent respectively from a year earlier. The hot, rainy weather last month led to more expensive vegetable and eggs, and plagues in some locations boosted pork prices, according to the statistics bureau.
Although inflation has been muted so far this year, it's come back on the radar again recently thanks to floods, the swine fever, skyrocketing rents in Beijing, currency depreciation, and the escalating China-US trade tensions which may raise prices of some key commodities like soy beans, according to Lu Ting, chief China economist at Nomura International Ltd. in Hong Kong. "Markets need to keep an eye on the development of the swine fever, but otherwise the inflation worries are overdone."