China's Trade Surplus With U.S. in August Reaches Record 
(Bloomberg) -- China's trade surplus with the U.S. rose to a record in August, as President Donald Trump ramps up pressure on Beijing.
The nation's trade gap with the U.S. widened to $31.1 billion during the month, according to Bloomberg calculations. The increase came despite exports climbing at the slowest pace since March. Shipments rose 9.8 percent in dollar terms, the customs administration said Saturday. Imports climbed 20 percent.
Chinese exporters are feeling the pain as trade tensions between the world's two biggest economies get worse. Trump turned up the heat again on Friday, threatening to impose tariffs on an extra $267 billion in Chinese goods. That would be on top of duties on $50 billion already in force and another $200 billion in the works.
"Exports to the U.S. grew at a faster pace than the previous month as exporters front-loaded orders before the additional tariffs on $200 billion Chinese goods take effect," said Gai Xinzhe, an analyst at the Bank of China's Institute of International Finance in Beijing. Faster U.S. economic growth also pushed up demand, Gai said.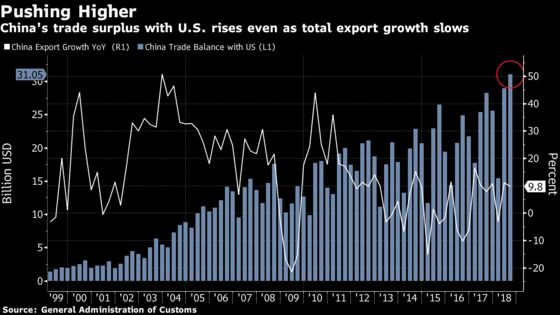 Trade talks last month between mid-level U.S. and Chinese officials led nowhere. China's commerce ministry said the two sides have maintained contact on a working level since then.
"We believe the U.S. government will continue to escalate the scale and scope of trade and investment measures against China," Raymond Yeung, chief greater China economist for Australia & New Zealand Banking Group Ltd. in Hong Kong, wrote in a recent note. "This policy direction is unlikely to change even after the U.S. mid-term elections in November. Besides retaliation, China is expected to offset the negative economic effects of the trade measures through a more proactive fiscal policy."
While the yuan stabilized in August, rapid weakening in previous months would have supported exports. Last month shipments grew a faster-than-expected 7.9 percent in yuan terms.
What Our Economist Says: 
"The People's Bank of China's move to halt a steep decline in the yuan suggests exports won't get a boost from a more competitive exchange rate. In fact, by our estimates, the yuan remains overvalued -- a headwind for exporters," Wan Qian, China economist at Bloomberg Economics in Beijing, wrote in a note. 
Trump said late last month that China was devaluing the currency in an attempt to make up for lack of demand. A cheaper yuan would make China's exports less expensive, increasing their competitiveness in the international market.