Yuan Outperforms Peers as China Deters Bears Before Tariffs
(Bloomberg) -- China's currency outperformed its Asian emerging market peers this week, as state-owned banks were said to have squeezed short sellers Wednesday and Thursday before a potential wave of new U.S. tariffs.
After five months of declines, the offshore yuan was poised to become the strongest emerging market Asian currency in the first week of September. State-owned banks bought yuan forward contracts, according to traders, pushing up one-month yuan forward points -- a gauge of funding costs -- to the highest since July 2017 and forcing speculators to cover short positions in the currency.
"China is acting preemptively to prevent the yuan from falling, as they see the tariffs coming, which is bearish," said Irene Cheung, foreign-exchange strategist at Australia & New Zealand Banking Group in Singapore. "Once the yuan gets to 6.9 per dollar, it will be hard to manage and the central bank would have to be aggressive again. We expect the yuan to trade in a range of 6.8 to 6.85 per dollar, as China has already drawn a line at 6.9. They will use the counter-cyclical factor to pull it back if the yuan falls."
A public comment period for proposed U.S. tariffs on $200 billion in Chinese imports ended Thursday. U.S. President Donald Trump could announce whether to impose the levies and escalate the trade war against China as soon as Friday.
The offshore yuan edged down 0.04 percent to 6.8472 per dollar as of 4:45 p.m. in Hong Kong. One-month offshore yuan forward points rose to 138.75. The onshore yuan fell 0.13 percent to 6.8359 against the dollar.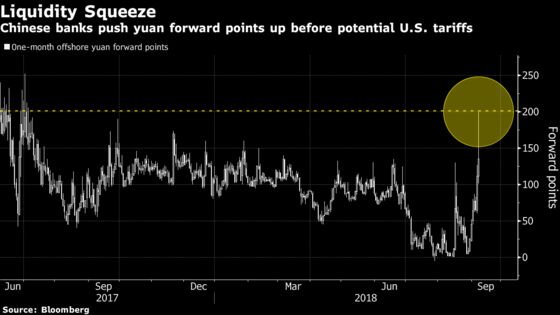 The People's Bank of China resumed the use of the counter-cyclical factor in setting the yuan's daily reference rate in August to support the exchange rate. The reference rate has been stronger than the average forecasts of traders and analysts surveyed by Bloomberg for four out of five days this week.