Hong Kong, China Stocks Wobble as U.S. Tariff Consultations End
(Bloomberg) -- Hong Kong shares swung between gains and losses, while mainland equities trimmed their advance toward the close as the U.S.-China trade dispute reached a potentially pivotal moment and emerging markets remained under pressure.
The Hang Seng Index closed flat after rising 0.8 percent and dropping 1.1 percent in the morning. It's now at its lowest in 13 months and down 19 percent from a record high in January. Tencent Holdings Ltd. rose 0.7 percent after a two-day fall of 7.1 percent. The Shanghai Composite Index, which has lost 24 percent since January, was higher for most of the morning before narrowing gains to 0.4 percent, closing at 2,702.30.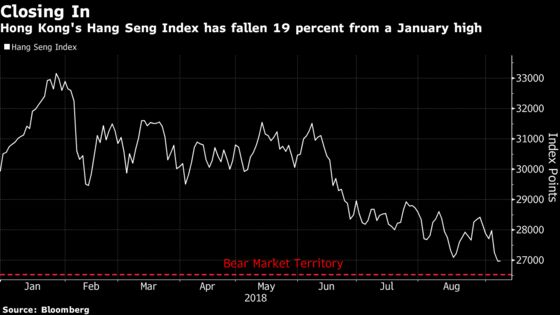 "It's highly likely that the Shanghai Composite will stage a rebound around 2,700 points," said Zhang Gang, a strategist with Central China Securities Co. "While the market will still be watching if the U.S. will slap tariffs on $200 billion worth of Chinese goods, it has been pricing in the implementation scenario."
China said Thursday it would retaliate if the U.S. went ahead with imposing tariffs of another $200 billion in Chinese imports. A public-consultation period ended Thursday in the U.S., and President Donald Trump may look to proceed with levies as soon as possible. Some top American tech companies and retailers have urged the administration not to impose the tariffs.
China is due to release August trade figures before Sunday, potentially adding more fuel to the trade-war fire. Export growth is forecast to slow to 10 percent from 12.2 percent in July, while imports are seen rising 17.7 percent versus 27.3 percent the previous month, leaving a trade surplus of $31 billion.
Energy producers outperformed on the big-cap CSI 300 Index, which added 0.5 percent, as investors bet coal prices will pick up and support the sector. Shaanxi Coal Industry Co. surged by the 10 percent daily limit after announcing a plan to buy back up to 5 billion yuan of shares. China Shenhua Energy Co. rose 4.8 percent and Yanzhou Coal Mining Co. gained 2.4 percent in Shanghai.
Macau casino stocks were some of the worst performers in Hong Kong, rounding out a week of heavy losses. A Bloomberg Intelligence measure of Macau gaming companies has slumped 11 percent this week. Credit Suisse said junket operators are concerned that sentiment and demand could be hurt by China's uncertain macro and policy outlook. Galaxy Entertainment Group Ltd. was the biggest loser on the Hang Seng Index, sliding 3.8 percent.
China Rebound in 4Q to Come to Aid of EM Stocks: State Street
China Reports New Swine Fever Outbreaks in Three Cities
What Analysts Are Saying About Equities: China Research Digest