China Reserves Steady as Yuan Declines Fail to Trigger Outflows
(Bloomberg) -- China's foreign currency holdings dropped slightly last month, signaling that declines in the currency have yet to cause significant capital outflows.
Reserves declined by $8.2 billion to $3.110 trillion in August, the People's Bank of China said Friday. That compares with $3.118 trillion the previous month and the median forecast of $3.115 trillion in a Bloomberg survey of economists.
The nation's reserve holdings, the world's biggest, have shown small fluctuations in value this year as capital control measures remain in place and the PBOC refrains from direct intervention on the yuan. In August, the PBOC used multiple policy tools to support the currency and stabilize market sentiment, implementing a reserve requirement on foreign exchange forward trading and a counter-cyclical factor in the daily pricing of the currency.
"There were worries in the market that a weak yuan could trigger capital outflows," said Iris Pang, Greater China economist at ING Bank NV in Hong Kong. "Capital outflow channels are managed by the authorities, and the capital account of China has not ever been freely open."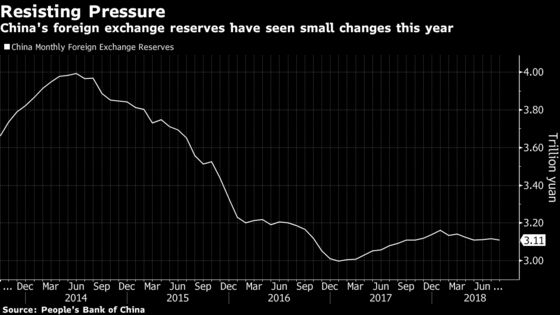 "These policy steps alleviated yuan depreciation pressures and foreign exchange outflows," according to a report by China International Capital Corp analyst Liu Liu in Beijing, "Foreign exchange reserves will likely remain largely stable."