Nevsun Finds a White Knight in Zijin With $1.41 Billion Deal
(Bloomberg) -- Zijin Mining Group Co. agreed to buy Nevsun Resources Ltd. for $1.41 billion to add copper assets in Serbia and Eritrea and enable the Canadian firm to ward off a hostile bid from rival Lundin Mining Corp.
Zijin, a Chinese gold and base metals producer, will pay C$6 per share in cash, trumping Lundin's C$4.75 a share bid launched in July, the companies said Wednesday. Nevsun rejected repeated overtures from Lundin this year, saying that its offers undervalued the company and its assets.
"We think this is a very good offer from Zijin and Nevsun is very supportive of it," Nevsun Chief Executive Officer Peter Kukielski said in an interview. "Given the very high interest in the company since we announced a strategic review process and before that, it certainly is possible that another company could come in over the top."
The fight for Nevsun highlights the scramble to acquire copper reserves as increasing demand for power generation and electric vehicles bolsters forecasts for tightening supply of the metal used to make cables and wires. Nevsun's prized Timok copper-gold deposit is among just a handful of projects that aren't already controlled by a big miner.
"There are not many projects planned over the mid-term and Timok is one of the few," Kukielski said by phone on Wednesday. "These mines will always be highly sought-after by major operators and mid-tear operators."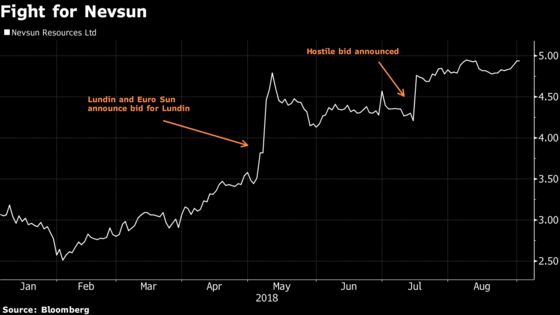 Lundin CEO Paul Conibear argued that his company was better positioned to provide the financing needed to develop Timok, as well as Nevsun's Bisha mine in Eritrea. However, Kukielski said last month the company had received interest from several companies and expected to find a better offer. Vancouver-based Nevsun's board had spurned a joint offer made public in May by Lundin and Euro Sun Mining Inc. as "complicated" in structure and too low.
Nevsun hasn't heard from Lundin since the company made its bid in July, Kukielski said. Lundin is unlikely to top Zijin's offer, given the required financing and the Chinese company's recent investment in Serbia, RBC Capital Markets analyst Sam Crittenden said in a note on Wednesday. Lundin officials didn't immediately respond to an emailed request for comment.
The deal also comes days after Zijin won a tender to buy Serbia's state-owned RTB Bor. Zijin offered to invest almost $1.5 billion in the country's biggest mining and smelting company over six years, Serbia's energy and mining minister said last week.
China's Zijin Wins Serb Copper Miner Pledging $1.5 Billion
Last month, Barrick Gold Corp. Executive Chairman John Thornton pointed to growing Chinese interest in copper and said any future partnership for the company in that metal would likely be with one or more Chinese players. Barrick, which has a strategic partnership with Zijin in the Porgera mine in Papua New Guinea, isn't involved in the transaction, Kukielski said on Wednesday.
While mining companies are bullish on the longer-term prospects for copper, the price has slumped almost 20 percent in London this year as a strengthening dollar, escalating trade disputes and emerging-market turmoil damped the outlook for demand.
The Zijin offer is a 57 percent premium to Nevsun's closing price on May 7, the day before Lundin first publicly announced its intention to acquire the company. It is not subject to any financing conditions.