Foreigners Love This Stock That China Investors Seem to Hate
(Bloomberg) -- Few Chinese companies divide the stock market like Ping An Insurance Group Co.
The largest Chinese insurer by market value is 2018's most popular mainland stock among foreign investors, who have net bought 16.1 billion yuan ($2.4 billion) of its Shanghai-traded shares, according to Bloomberg calculations. That's more than for any other company via trading links between Hong Kong and the mainland.
On the other hand, it's being ditched in Hong Kong by Chinese investors. They've sold more Ping An shares there than any other company this year apart from Tencent Holdings Ltd., and they're also selling onshore. Ping An's Hong Kong-listed shares are down 5.6 percent in 2018 versus the Hang Seng Index's 6.5 percent decline, while its mainland-traded A shares have fallen 7.4 percent compared with a 17 percent drop in the CSI 300 gauge.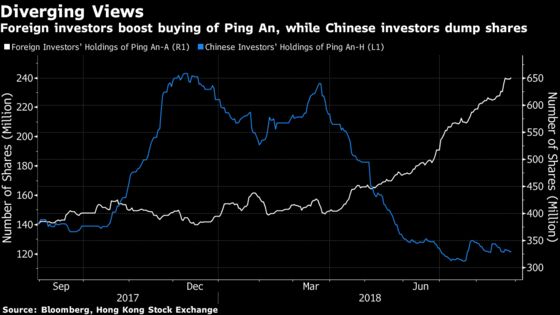 "Views are diverging between mainland and foreign investors toward Ping An," said Steven Lam, a Hong Kong-based analyst at Bloomberg Intelligence. "Many foreign investors not only value the stock as an insurance company, but a fintech player."
Ping An said last year it aimed to eventually get half its earnings from technology, a development that could make investors rethink their valuation methodology on a traditional-economy stock. The company's stock-market capitalization climbed $101 billion last year, partly thanks to its investments in online services.
Analysts seem to side with foreigners. The stock has no sell ratings and their average price target implies it will climb at least 30 percent in both Hong Kong and Shanghai over the next 12 months from Monday's close.
"It's the best Chinese financial company to institutional investors," said Vincent Hsu, a Taipei-based fund manager at Fuh-Hwa Securities Investment Trust Co., who has been buying shares over the past few months. "Lots of foreign investors are buying Ping An, as the stock ranked top in the criteria valuing a company's business, investment and capital."
Ping An's management has repeatedly said the share price doesn't fully reflect the value of the company, which spans insurance, banking and asset management. The conglomerate reported a 34 percent net profit increase in the first half, helped by a jump in fintech and health-care business.
Chinese investors still have their doubts.
Ping An's shares on the mainland have been cheaper than those in Hong Kong since June. Its yuan-denominated securities trade at 9.8 times forward 12-month earnings, while its H shares are at about 10.6. By contrast, technology shares on the CSI 300 Index trade around 22 times.
"The fact that Ping An's A shares aren't substantially more expensive than H shares is a reflection of the hesitation for domestic investors to give more credit to its fintech story," said Daiwa Capital Markets Hong Kong Ltd.'s Leon Qi, the only analyst who doesn't rate Ping An a buy.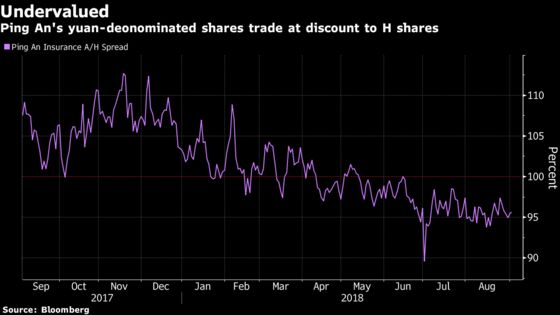 The combined stake of mainland investors in Ping An's Hong Kong-listed shares is close to a one-year low, while foreign investors hold the most A shares since at least March 2017, according to Bloomberg calculations based on exchange data.
Chinese investors may have chosen to sell liquid heavyweight companies such as Ping An as general sentiment turned against Hong Kong stocks and there was a rush to exit, said Christine Wu, vice president at Yuanta Securities Investment Trust.
Chart: Chinese Investors Sell Hong Kong Stocks at Record Pace
Hengsheng Asset Management Co. fund manager Dai Ming echoed Qi's views on fintech doubts. "It's still a bit early to say Ping An's tech ambition will be realized," he said. "Conglomerates like Fosun also have such ambitions to develop fintech, but the results haven't been very satisfying."
Earnings of Ping An's online lending platform Lufax could slow, Shanghai-based Dai said. He remains bullish on Ping An though, mainly because of its advantage in the insurance business. It is the only Chinese insurer that managed to keep new business value growing this year while other life insurers were more affected by tightening measures, he said.
"The divergence between China and foreign investors is a result of two different investment styles," Dai said. "Mainland investors tend to value a stock based on a shorter-term outlook."