China's Junk Bonds Riding High Again With August Sales Spike
(Bloomberg) -- China's easing measures aimed at boosting economic growth are beginning to help some of the country's weaker firms.
As local bond yields dropped, China's junk-rated issuers rushed to tap the credit market. Yunnan Lucky Air Co., a unit of the embattled HNA Group Co., sold 500 million of yuan bonds on Aug. 21, first time since November. Property developer China Oceanwide Holdings Ltd., which was scrambling to sell assets to repay debt, also issued a five-year local note last month.
Average yield on China's AA rated five-year corporate bonds, considered in sub-investment grade in the local market, are still 14 basis points lower than levels at the end of June on the back of easing measures, despite rising since early August on fresh bond supply concerns. China introduced stimulus policies to shield the economy from escalating trade tensions with the U.S. Primary market activity also received a boost. High-yield domestic bond issuance in August surged to 19.4 billion yuan ($2.8 billion), more than double the sales in July, according to Bloomberg-compiled data.
"One by-product of this fine-tuning policy stimulus is improved funding and liquidity onshore," said Todd Schubert, head of fixed-income research at Bank of Singapore Ltd. "This can be seen by the more robust onshore new-issue calendar and improved market performance for some of the more liquidity challenged names."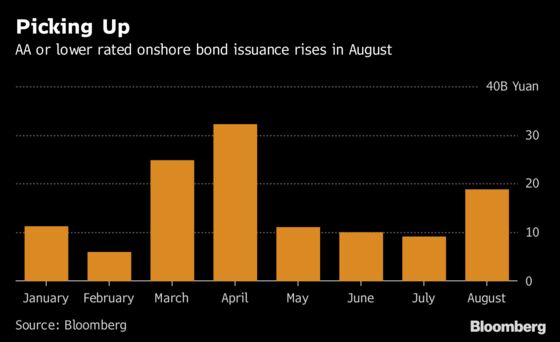 Improving local market sentiment helped dollar bond prices of some riskier firms rebound as expectations of defaults in the near term receded. Oceanwide's 2020 note jumped to 85.7 cents on the dollar from a record low of 78.9 cents on May 31. Industrial holding company Xinjiang Guanghui Industry Investment Group Co.'s 2020 bond surged 24 cents to 84.2 cents from a trough in July.
"For the time being, China's corporate debt issuers -- especially weaker credits -- will try to come in droves to tap both onshore and offshore bonds to catch the improved sentiment and ride on easy, cheap money," said Anthony Leung, a Hong Kong-based senior analyst at Wells Fargo & Co. who sees the proportion of lower quality debt issuance to rise in the second half of the year.
Industrial firm Tunghsu Group Co., whose dollar notes rebounded to 82 cents on the dollar from a record low of 71 in July, plans to sell up to 3.5 billion 3-year local bonds on Sept. 4, which would be its first domestic issuance this year.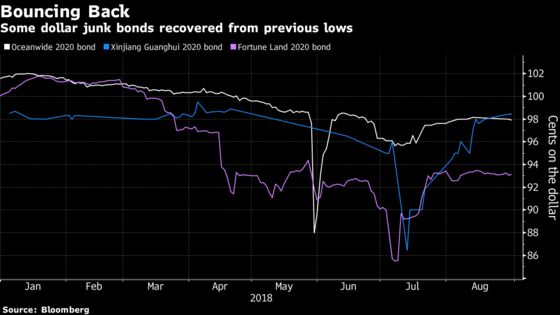 While Chinese firms enjoy easier access to the bond market, the high debt levels at some of them aren't sustainable, according to CreditSights. "At some point this will need to be addressed and will result in some defaults." Sandra Chow, a senior analyst at the bond research firm in Singapore said.
Investors may have put these concerns on the back burner for now. Yields on Chinese junk bonds denominated in U.S. dollars have dropped 129 basis points to 9.3 percent on Aug. 31 from an almost four-year high in July, an ICE BofAML index shows.
China's commitment to deepen the domestic capital markets is particularly important for issuers, as it has led to more domestic bond approvals, according to Charles Chang, Hong Kong-based head of Asia credit strategy at BNP Paribas SA. This could drive more buybacks of dollar bonds, since offshore yields now exceed onshore meaningfully for low-BB and single-B rated issuers, he said.