There's Not-So-Good News Buried in China Developers' Fabulous Earnings
(Bloomberg) -- The financial results of Chinese developers this earnings season have been roundly impressive, but there is one metric that should give investors pause: Firms' ability to service their debt is the weakest in three years.
Cash-to-short-term debt levels at more than 80 publicly traded real estate companies tracked by Bloomberg were 133 percent on average in the first half, the worst since the first six months of 2015 and down from 297 percent a year earlier. Almost a quarter of developers sport a ratio below 50 percent.
"The biggest alarm is the refinancing pressure," said Christopher Yip, a real estate analyst at S&P Global Ratings. "Although developers try to hoard cash, their buffers are draining."
It's a stark reminder of the challenges ahead for Chinese developers even as the nation's booming property market buoys earnings and pushes up margins. The sector faces a record $23 billion maturity wall in the first quarter of 2019, Bloomberg calculations show, or as much as $43 billion if bond investors demand early repayment of some notes. Compounding that is China's determination to keep a lid on home prices, which is making it harder for firms to generate swift cash from sales.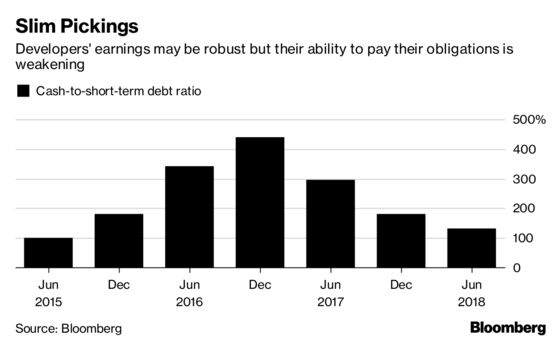 It's all too tempting to focus on the good stuff, though. First-half profit at the 10 biggest Chinese developers jumped an average 75 percent from the same period last year, while gross margins climbed to a six-year high of 32.8 percent. Sunac China Holdings Ltd., for example, posted a 344 percent surge in profit, which augurs favorably for full-year performance.
Healthy demand in places from northern Jinan to central Hefei has allowed many other firms to forecast solid earnings growth into 2019 too, when apartments at new projects get delivered to buyers and booked as revenue. Country Garden Holdings Co. has a staggering 770 billion yuan ($113 billion) of residences sold but not yet booked, CGS-CIMB Securities Ltd. estimates. China Vanke Co. meanwhile has projects under construction spanning 81 million square meters.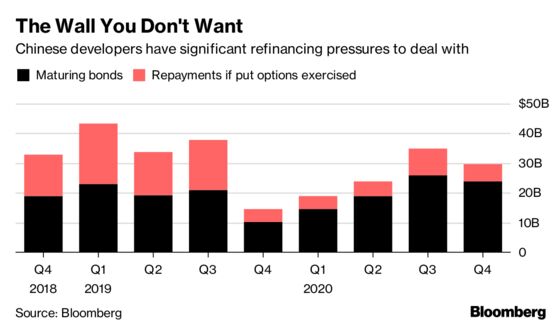 But while business has been booming, developers have also been piling on the debt. Firms have been selling more bonds in the domestic market -- and at the cheapest rates as investors shrug off default concerns. Those with dollar-denominated obligations, meanwhile, face higher borrowing costs as the U.S. Federal Reserves continues on its tightening path.
According to Bloomberg Intelligence property analyst Kristy Hung, it's the smaller firms that will suffer the most. Their land banks are under threat from larger rivals with big war chests, and consolidation is already starting to occur. The top 30 players now command a market share that's approaching 50 percent, up from 29 percent in 2016.
Yida China Holdings Ltd., a Dailian-based developer with a market value of around $870 million, is one company feeling the heat. Its credit rating was trimmed to B- from B by S&P last month. The ratings firm cited significant short-term debt maturities, including 3 billion yuan of onshore bonds, a "very small cash balance" and weak cash flows.
After slipping less than 1 percent last month, a gauge of 22 major Chinese developers, mostly traded in Hong Kong, slid the most in a week on Monday, down 1.54 percent.
"Now, builders are unwillingly starting to accept lower selling prices capped by the government," said Hongwei Zhang, a research director at Tospur Real Estate Consulting Co. "Some are already quite financially stretched, and the cash pressure isn't going away."