China Banks Managing $16 Trillion Can't Stop Talking About Risk
(Bloomberg) -- The biggest banks on Earth really want the world to know how much they're paying attention to risk.
China's six largest lenders, which control a combined $16 trillion of assets, mentioned the word almost 1,900 times in their first-half earnings announcements, up about 9 percent from the same period of 2017, according to data compiled by Bloomberg.
Bank of China Ltd. said it achieved "new breakthroughs in risk mitigation," while China Construction Bank Corp. touted its "stringent risk management." Industrial & Commercial Bank of China Ltd., the world's biggest lender by assets, said on Thursday that it will "adopt well-targeted solutions to put all types of risks under control."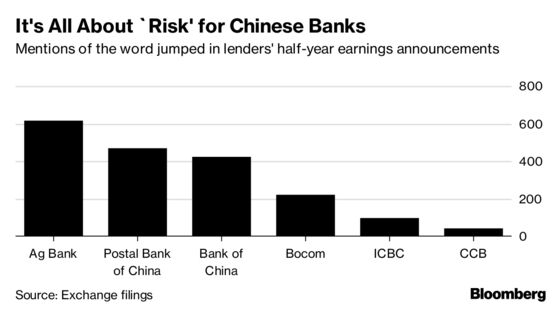 While it would be easy to dismiss the comments as corporate platitudes, the first-half numbers suggest big Chinese banks are indeed doing a better job of managing risk. Despite China's slowing economic growth and record pace of corporate defaults, the lenders reported lower bad-debt ratios as they cut exposure to the hardest-hit industries and increased recovery rates.
China's government has made controlling financial risk one of its biggest priorities as President Xi Jinping tries to prevent a record buildup of corporate debt from tipping the economy into a crisis. Even as authorities have appeared to ease up on the campaign in recent weeks to bolster short-term growth, the nation's banking regulator reiterated this week that lenders "should follow the central government's master plan in defusing financial risks."
"The banks are talking so much more about risk," said Liao Chenkai, a Shanghai-based analyst at Capital Securities Corp. "It's a top priority given the government's deleveraging campaign. We've been seeing bond defaults since the beginning of the year, but the banks still managed to maintain their asset quality, judging by their interim results."