Sinopec Raises Dividend as Oil Rally Boosts Profit to Record
(Bloomberg) -- China Petroleum & Chemical Corp. raised its dividend payout after half-year earnings jumped to a record, fueled by improving refining profits and a rebound in crude prices that brought its oil and gas exploration unit closer to breaking even.
The world's biggest refiner by capacity, known as Sinopec, proposed an interim dividend of 0.16 yuan a share, a 60 percent increase from the previous year, it said Sunday in stock exchange filings. Net income rose 52 percent to 42.4 billion yuan ($6.2 billion) in the first six months. That's the best half-year profit on record, according to data compiled by Bloomberg dating back to 2000.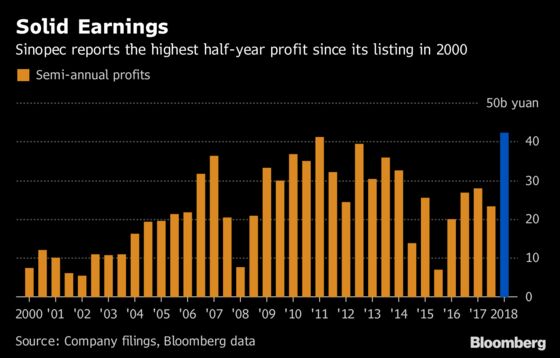 The dividend increase suggests "Sinopec may be willing to share the good returns with investors," Morgan Stanley said in a note, adding the company will probably maintain full-year dividend at 0.5 yuan, implying a yield of 7 percent to 8 percent. "We believe the company will maintain stable recurring earnings as Brent oil price stays in the $65 to $75 a barrel range."
Sinopec flagged the jump in first-half earnings last month, adding that its upstream business had "improved significantly" on higher international oil prices. The company, which makes most of its money from processing oil into fuels, has been burdened in recent years by losses from its exploration and production segment as its aging fields have higher production costs.
Sinopec shares in Hong Kong on Monday gained as much as 3.1 percent to HK$7.75, the highest since June, before paring gains to 2.7 percent as of 9:49 a.m. local time. The Hang Seng Index was up 1.2 percent. The company has risen about 35 percent this year, compared with a roughly 6 percent slide in the city's benchmark index. Brent crude, the global marker grade, averaged about $71 a barrel between January and June, from $53 a year earlier.
Operating losses from Sinopec's exploration and production division narrowed to 412 million yuan in the first half from 18.3 billion yuan a year earlier, according to the statement. Operating profit from the refining business climbed 32.5 percent to 38.9 billion yuan, while the chemical segment posted a 29.7 percent gain.
"Good cost control and better margins from selling higher-grade fuel products helped offset higher oil purchase prices for Sinopec's refining business," said Tian Miao, a Beijing-based analyst at Everbright Sun Hung Kai Co. "While higher oil prices boosted Sinopec's upstream business, it still falls short of breaking even. That might raise concern on how competitive its exploration business is."
Capital expenditure reached 23.7 billion yuan in the first half, compared with a full-year estimate of 117 billion yuan. Revenue rose 11.5 percent to 1.3 trillion yuan.
On a quarterly basis, Sinopec's net income more than doubled to 23.1 billion yuan in the three months through June, from 10.7 billion a year ago, according to Bloomberg calculations.
Rival Cnooc Ltd. said Thursday its net income rose 57 percent in the first six months to the highest level since the second half of 2014. The company pledged higher spending through the rest of 2018 to meet investment targets. PetroChina Co., the nation's biggest oil and gas producer, is set to post a doubling in profit when it releases earnings on Aug. 30.
Sinopec on Sunday gave output estimates for the second half of 2018:
Company expects crude oil output of 146 million barrels
Targets natural gas output of 497.8 billion cubic feet
Sees crude oil processing of 121 million tons
Plans domestic oil product sales 90.5 million tons