Taiwan No U.S. Bargaining Chip in China Fight, Envoy Says
(Bloomberg) -- Taiwan's top diplomat dismissed concern that the U.S. might use ties with the democratically run island as leverage in President Donald Trump's trade war with China.
Foreign Minister Joseph Wu told Bloomberg Television on Friday he was confident America's support for Taiwan wouldn't be affected by the ups and downs in relations between Beijing and Washington. Trump has in recent months approved several measures allowing for upgraded diplomatic and military ties with the island, which China considers part of its territory.
"We understand Washington D.C.'s support of Taiwan continues to be very strong," Wu said from Taipei. "Taiwan is a positive element in the U.S. economy and I just don't worry that Taiwan is going to become a chip to be negotiated with by the U.S."
Wu's remarks followed a fresh diplomatic blow to Taiwan, after the Central American nation of El Salvador cut ties with Taipei and switched its recognition to Beijing. The departure left the island with just 17 formal diplomatic partners, as the Communist Party worked to further isolate Taiwan's China-skeptic president, Tsai Ing-wen.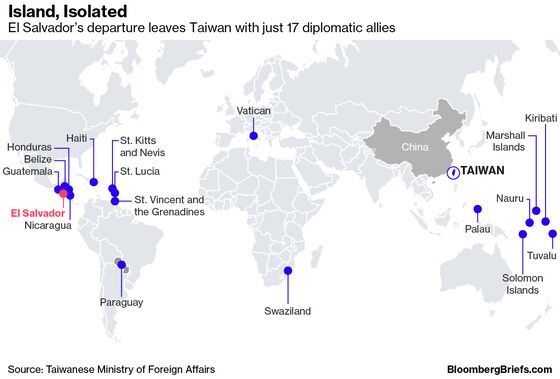 The White House said that El Salvador's decision to cut ties with Taiwan would prompt the U.S. to reevaluate its relationship with the Central American nation. "The El Salvadoran government's receptiveness to China's apparent interference in the domestic politics of a Western Hemisphere country is of grave concern to the United States," White House spokeswoman Sarah Huckabee Sanders said in a statement.
The U.S. would continue to "oppose China's destabilization of the cross-Strait relationship and political interference in the Western Hemisphere," Sanders said.
Wu said he was concerned that China's influence would continue to expand in Central America, a bastion of Taiwanese support.
"China has been expanding its influence everywhere in the world. And Central America is America's backyard," Wu said. "Without any force stopping it, I think China's influence will continue to expand."
The U.S. has maintained informal relations with Taiwan and provides the island military support despite switching relations to Beijing in 1979. The Trump administration and Congress this year approved a measures to expand ties with Taiwan, including a law that would allow high-level visits by American diplomats.
"Our support from the U.S. is stronger than ever before" Wu said. "Our support from Japan and other like minded countries is stronger than ever before as well."
Wu said his government was watching closely China's efforts to boost ties with the Vatican, which recognizes Taipei amid a longstanding dispute with Beijing over bishop appointments. While Wu expressed support for efforts to improve the lives of Chinese Catholics, he said Taiwan was concerned about "a continuous deterioration of the situation in China with regard to religious freedom."
"There are more and more Catholics in China that are being persecuted," Wu said.