It's Been a Good Year for China's Soy Sauce King
(Bloomberg) -- Foshan Haitian Flavouring & Food Co. is emerging as a star among consumer staple stocks worldwide as China's largest soy sauce maker taps booming growth in the country's catering industry.
Shanghai-listed shares of Haitian soared 66 percent in the past 12 months, making it one of the top five performers among the world's largest consumer stocks, which include U.S. food giants Kellogg Co. and General Mills Inc., according to data compiled by Bloomberg.
The stock's 29 percent rally this year stands in contrast to a 18 percent decline by the CSI 300 Index. This is partly due to U.S.-China trade tensions sparking demand for shares of domestically focused sectors, from beverage to health-care stocks.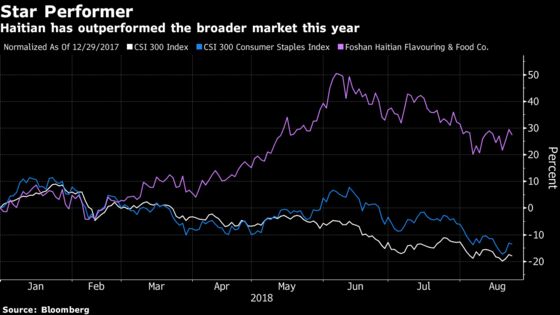 The strong rally is also making Haitian look expensive as the stock is trading at 43 times earnings forecast for this year, compared to 25-34 times for most Shanghai- and Shenzhen-listed condiment firms tracked by Shenyin & Wanguo Securities Co. Yet analysts say the valuation premium is justified, citing the growth potential of China's catering industry and Haitian's position in the industry.
"For an industry leader with stable cash flow, investors are willing to assign a valuation premium," said China International Capital Corp. analyst Lv Ruochen, who has a buy rating on the stock with a 12-month price target of 81 yuan -- the second highest among analysts tracked by Bloomberg.
As Chinese consumers dine out more, Haitian's profits have been growing. The firm has registered net income growth of more than 20 percent for seven straight quarters and the figure is expected to grow 25 percent this year and 26 percent in 2019, data compiled by Bloomberg showed.
About 60 percent of Haitian's sales come from the domestic catering industry, whose revenue was estimated to have expanded 20 percent to 3.9 trillion yuan ($570 billion) last year from 2015 and is on track to exceed 5 trillion yuan in 2020, according to a People's Daily report in January. The Chinese soy sauce market is expected to grow 28 percent to 86.2 billion yuan in five years through 2022, according to data from Euromonitor International.
To be sure, the soy sauce maker's heady growth isn't without risks. In its interim report, Haitian noted that its business would suffer if the prices of soybeans and sugar, the main raw materials in the condiment's production, increase. Higher tariffs levied by China on U.S. soybeans amid escalating trade tensions may boost domestic soy prices, analysts say.
Haitian's share price may have plateaued for now. The 12-month consensus price target set by analysts for Haitian stands at 71.69 yuan per share, data compiled by Bloomberg show. The stock rose 1.2 percent to 69.29 yuan on Thursday.
Morningstar Inc.'s Allen Cheng is the most bearish on Haitian among the 26 analysts tracked by Bloomberg, with a sell rating. The firm's revenue and profits are set to slow following years of robust growth as China's economy has started to show signs of decelerating, he said.
Analysts including Zhongtai Securities Co.'s Fan Jinsong say Haitian still wields strong pricing power as an industry leader and should be able to preserve margins by passing on cost increases to consumers. Haitian holds a local market share of about 16 percent, higher than 4 percent for No. 2 Chinese soy sauce producer Jonjee Hi-Tech Industrial and Commercial Holding Co., according to a Changjiang Securities Co. report.
Haitian's operating margin of 28 percent for 2017 was nearly triple the average level for all nine China-listed flavoring companies tracked by Shenyin & Wanguo, data compiled by Bloomberg showed.
In response to shift in consumer taste for healthier products such as "additive free" and "organic" soy sauce, Haitian has launched more high-end series and the move should bode well for future profits, according to a report by Industrial Securities Co.
Rick Su, a Taipei-based fund manager at Capital Investment Trust Corp., who held Haitian shares as of the end of June, said consumer staples should do well in the second half in light of uncertainties over China's economy.
"We've spotted an upcoming, big change in the structure of consumption in China," said Su. "I think consumer staples will outperform luxuries."