China's Rising Regions Challenge New York, Texas for Economic Power
(Bloomberg) -- It's been said that "everything is bigger in Texas." By size, though, the economies of three different provinces in China are catching up to not only the Lone Star State, but also New York.
Guangdong, Jiangsu and Shandong each had gross domestic product of more than $1 trillion last year. That matches the number of U.S. economies exceeding that milestone: California, Texas and New York.
A side-by-side comparison of the 50 states and mainland China's 31 provincial-level economies can provide some clues into geographic strategies that presidents Donald Trump and Xi Jinping can take in their trade war. In fact, the GDPs of the 20 largest economies in the two nations exceeded $500 billion in 2017. Eleven of the top 20 were American states and nine were Chinese provinces.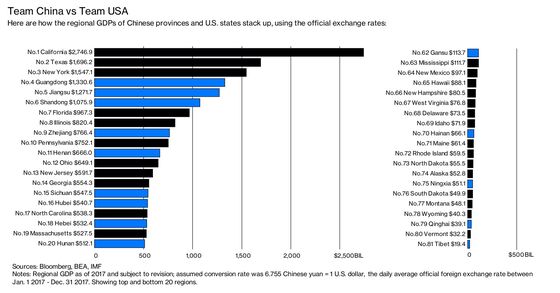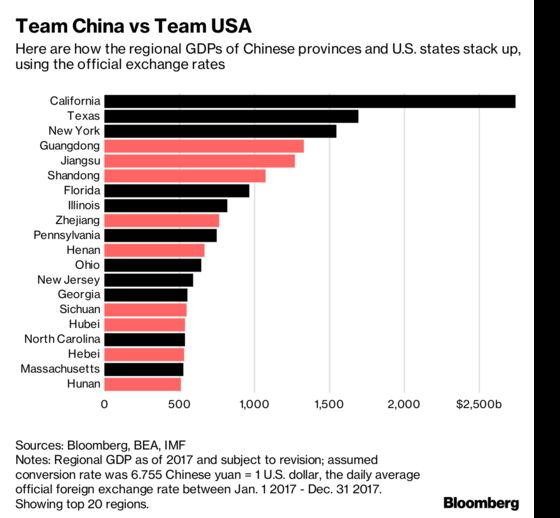 China's rising geographic diversity is even more evident when GDPs are calculated on purchasing-power-parity basis. That adds five more provinces to the "$1-trillion club," and Guangdong, Jiangsu and Shandong each join California above $2 trillion -- surpassing both New York and Texas.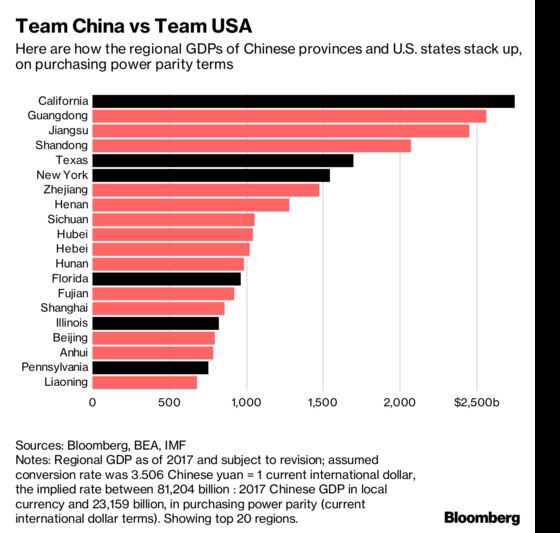 "China is both first-world-class on the one hand and still developing on the other hand," Jean-Etienne Gourgues, managing director in China for Pernod Ricard SA, said on a conference call in June. "It's more the household income which matters, which is really the purchasing power on private consumption standpoint, and the increasing number of the middle and affluent class."
The "affluent class" for the marketer of Chivas Regal whisky and Martell cognac comprises about 36 million Chinese with after-tax monthly income of more than $4,000. That group has about doubled in the past three years, and "China is adding 6 million to 7 million new consumers with the purchasing power on the market every year," Gourgues said.
To be sure, it's hard to separate the parts from the whole in either country. But territorial differences do matter in ways ranging from taxes, laws and politics in each state, to ethnic makeup, terrain and industrial structure across Chinese provinces, autonomous regions and largest municipalities.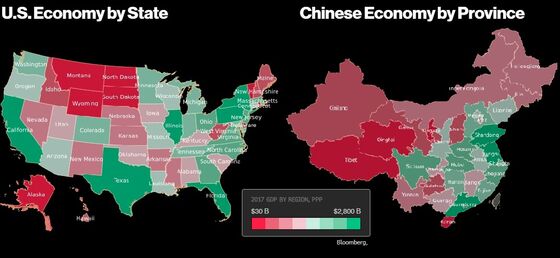 China's imposition of a 25 percent tariff on soybeans, designed to weaken Trump's political support in states such as Indiana, Iowa and Illinois, illustrates the importance of mapping state economies and demographics.
China is no monolith either. While the country's GDP grew 6.8 percent overall in the first half of 2018, the pace within the 31 provincial-level economies varied widely. Guizhou, home to the world's most-valuable spirits maker and a growing number of data centers, grew by 10 percent in the first half of the year, while Jilin, in the northeastern rust belt, lagged behind at 2.5 percent. Guangdong and Jiangsu each expanded at faster than 7 percent.
"On a provincial basis, China's coastal provinces have the biggest exposure to exports," Tom Orlik, Bloomberg's chief economist, said in a report. "Guangdong, Shanghai, Zhejiang, Jiangsu and Fujian all have export-to-GDP ratios higher than the national average of 18.5 percent. At the same time, export provinces have markedly lower debt-to-GDP ratios, stronger growth, and more dynamic private sectors."
"Guangdong, one of the two economic powerhouses in China besides Jiangsu, is driven by industrial investments of innovative customer industries such as automotive, consumer goods, home and personal care," Martin Brudermueller, chief executive officer of BASF SE, said after the German chemicals company signed a preliminary accord to spend as much as $10 billion in China's most-populous province.
For another view into the world's two biggest economies, it is also helpful to look at the smallest of the 81 territories.
At the official exchange rate between the dollar and yuan, the combined GDPs of the three smallest economies in each country -- Tibet, Qinghai and Ningxia in China, and Vermont, Wyoming and Montana in the U.S. -- were near parity at $110 billion versus $121 billion.
Using purchasing-power parity, which reflects cost differences in each country, the output of China's trio becomes $211 billion and Tibet has more economic might than Vermont.
READ MORE: For the full list of regional GDP comparisons, (both in purchasing power parity and official FX terms), click HERE