China Pork Giant Is Analyst Favorite Despite Trade War and Fever
(Bloomberg) -- WH Group Ltd. has had a tough ride recently, getting caught up in the U.S.-China trade dispute and plunging Thursday following reports of swine fever at a slaughterhouse. Market watchers still love the stock though.
All 19 WH Group analysts tracked by Bloomberg have buy recommendations or equivalent on the meat processor, with an average price target of HK$9.32. The shares, which slumped as much as 12 percent Thursday, are now at HK$6.10, down 30 percent this year -- the third-worst on the Hang Seng Index.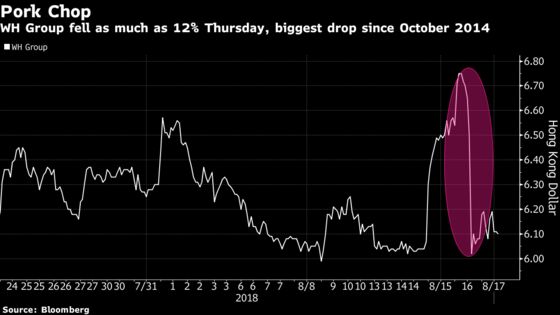 The trade spat between China and the U.S. has hit WH Group as it is exposed to the American market, generating more than half of its revenue there. The company's chief executive Wan Long said Tuesday that China's imports of pork from the U.S. were declining and that WH Group was shifting its trade flows because of the dispute.
Credit Suisse Group AG on Wednesday upgraded WH Group to outperform from neutral and raised its price target by 19%, saying earnings showed an improvement in the company's U.S. live hog and packaged meat business in July, while the outlook for China operations remains good.
Then, news broke Thursday afternoon of African swine fever at the slaughterhouse of a non-wholly owned subsidiary in Zhengzhou, sending WH Group's shares crashing in Hong Kong. Authorities in the central Chinese city ordered the closing of the slaughterhouse.
Analysts are maintaining their bullish views on the stock. Charlie Chen at Credit Suisse said the operational impact would be limited to less than 1 percent of WH Group's total production volume in China, saying the "event should be solved soon."
In a statement Friday, WH Group said it had taken steps to prevent the spread of the disease, including euthanizing all hogs at the Zhengzhou slaughterhouse and temporarily closing the facility. It said the unit accounted for an insignificant portion of the group's operations and there wouldn't be any disruption to the supply of pork and other products.
WH Group rose 0.5 percent to HK$6.11 Friday afternoon. Its Shenzhen-listed subsidiary Henan Shuanghui Investment & Development Co. was up 0.1 percent after sliding by the 10 percent daily limit Thursday. WH Group surged 45 percent in 2016 and another 41 percent last year.