China's Yuan Surges Most Since January, Rebounding From 2017 Low
(Bloomberg) -- China's yuan jumped the most in more than six months on optimism that trade relations with the U.S. may thaw, with analysts also pointing to a rumor that authorities sought to limit onshore banks from lending to offshore counterparts. Stocks pared early losses.
The yuan surged as much as 0.79 percent before paring its gain to 0.47 percent as of 5:08 p.m. Beijing time. It was at 6.9015 per dollar after sinking Wednesday to the weakest level since January 2017. The offshore-traded currency strengthened even more as it rebounded from a six-day loss. The gap between offshore 12-month forwards and the spot rate spiked the most in more than two years. The People's Bank of China restricted commercial banks from using some interbank accounts to deposit or lend yuan offshore through free trade zone channels, Reuters reported.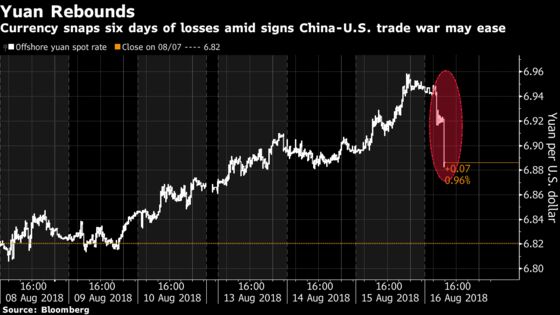 "Two reasons are supporting the yuan today: the restart of China-U.S. trade talks, and the widespread market rumor that some banks at Shanghai free-trade zone are not allowed to lend the yuan to offshore banks," a move that could squeeze liquidity, said Gao Qi, Singapore-based foreign exchange strategist at Scotiabank. "The yuan may stabilize at the current level or even strengthen in the near term, as sentiment improves on the trade front. Its fate in the longer-term hinges on the trade talks and Turkey."
China will dispatch Vice Commerce Minister Wang Shouwen to the U.S. for low-level trade talks in late August, the first official exchanges since earlier negotiations broke down two months ago.
Equities in Hong Kong and mainland China were volatile, as the trade news was offset by a decline in Tencent Holdings Ltd. after the Chinese technology company reported its first drop in profit in at least a decade. The stock clawed back a little ground in the afternoon, paring its loss to 3 percent from as much as 5.1 percent.
The Hang Seng Index fell as much as 1.7 percent before bouncing back with a 0.3 percent gain. It closed down 0.8% percent. The CSI 300 Index closed down 0.5 percent after swinging from a loss of 1.8 percent to a gain of 0.7 percent.
"Some funds might be buying the dips after stocks dropped below key levels earlier, though I doubt any rebound amid a downturn would be strong enough to sustain," said Linus Yip, a Hong Kong-based strategist at First Shanghai Securities Ltd. "Investors will likely remain cautious despite the latest sign that China and the U.S. will return to the negotiation table. There have been some twists and turns before and people expect more down the road on the trade issue."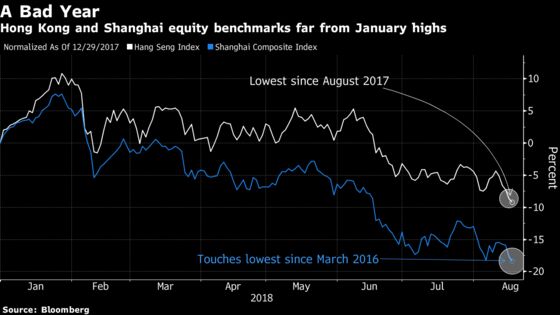 The yuan was the strongest currency in Asia on Thursday. Over the past three months, though, it has weakened about 7.6 percent against the dollar as the PBOC eased monetary policy to support a slowing economy and trade friction with the U.S. worsened. Policy makers have made it more expensive to short the yuan and urged banks to avoid "herd behavior" in the currency market.
"Relief on China-U.S. trade tensions cooled down expectations for further declines in the yuan toward 7 per dollar, and prompted some investors to trim their short yuan positions," said Ken Cheung, a senior currency strategist at Mizuho Bank Ltd. "We maintain our view that policy makers will not let the yuan break 7 this year. The central bank will step up actions to stabilize sentiment if necessary."
In Hong Kong, meanwhile, the city's monetary authority again stepped in to buy up the local currency to defend its peg to the greenback. The de facto central bank bought HK$14.6 billion ($1.9 billion) of local dollars Wednesday, taking its spending on intervention this week to HK$16.8 billion. Prior to this weeks moves, the Hong Kong Monetary Authority hadn't stepped in since May. The currency was at 7.8496 per dollar.
More news, moves and commentary:
Analysts Hold Firm on Tencent Buy Ratings After Profit Drop
Tencent's Shocking Profit Slippage Sends Shares Spiraling: Chart
Tommy Xie, economist at Oversea-Chinese Banking Corp. in Singapore:
"The news that the Chinese vice commerce minister is visiting the U.S. gives investors some hope for positive developments in China-U.S. trade relations, which helps to boost sentiment on the yuan in the near term"
Francis Lun, Hong Kong-based chief executive officer of Geo Securities Ltd.
"Markets were oversold and people started bottom fishing"
"In China, if you look objectively all the factors are negative – the economy is very clearly slowing down. It's a big reversal the people need to get used to"
"Retail investors are coming in to buy up the market – you can tell from the smaller transactions. The rally may not be sustainable because the big funds may still be trying to sell"
Daniel So, CMB International Securities Ltd. strategist in Hong Kong:
"Tencent's disappointing results is the major reason dragging the markets down today"
" Results are still the focus of the market now"