China's Tumbling Equities Now Look Very Attractive, to Some
(Bloomberg) -- There's a silver lining to this year's $2.5 trillion bloodbath in China's equity market: foreigners want in.
Buying yuan-denominated shares has rarely been so easy and inexpensive for international investors. The currency is near its weakest in 16 months and hedging against further declines is very cheap. Valuations are 16 percent lower than when MSCI Inc. first added the shares to its indexes only two months ago, while restrictions to access have eased, daily quotas have increased and trading mechanisms have come through testing.
Mainland stocks barely feature in international portfolios, a shortfall that China's been trying to address for years as it gradually opens its economy. Recent northbound buying shows overseas traders are hunting for value in China after the CSI 300 Index lost as much as 32 percent in dollar terms since January. That's increased their ownership of the mainland market to about 5.3 percent of free float from 2 percent earlier in the year, according to asset management firm Robeco.
"It's given the long-term buyers a much better entry point," said Victoria Mio, the chief China investment officer for Robeco's Hong Kong unit. "They weren't caught in the weakness and can afford to be a little less cautious than in January, when everything was expensive. People who were going to enter the market anyway might as well do it now."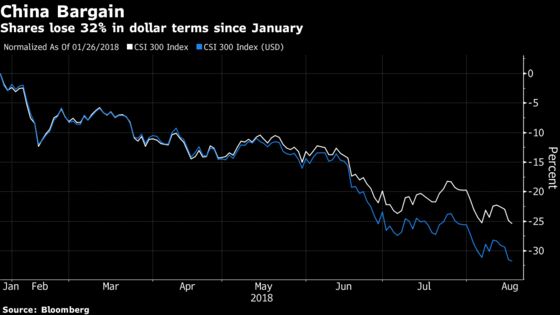 Foreign investors bought a net $3.7 billion of mainland shares since July 25, according to data compiled by Bloomberg based on daily quota usage through Wednesday. They bought another net $336 million on Thursday.
MSCI Inc. this week listed 10 more A shares it plans to add to its indexes at the end of the month, a change that will lift the weighting of mainland stocks to 0.75 percent of its emerging-market gauge. While the proportion is still tiny, it's another step toward attracting some of the $2 trillion tracking MSCI's indexes worldwide. Rival index provider FTSE Russell is slated to announce plans for A shares in September.
There are signs China wants to improve access for foreigners, a move that would broaden the pool of money available to support its languishing stock market. Regulators last week said they'll ease some trading restrictions facing overseas qualified investors such as insurers, pension funds or sovereign-wealth funds. The announcement triggered a temporary rally in onshore stocks.
Fresh declines in stocks and the yuan mean the valuation case for Chinese shares is stronger than it's been all year. A gauge of large caps, a group that comprises the majority of foreign buying, trades at only 8.4 times projected earnings, down from a multiple of 12 times in January. Relative to the S&P 500, it's near the biggest discount in about 15 months.
"Everything has a price," said Charles Feng, head of macro trading at Standard Chartered Plc in Hong Kong. "At a certain point, people are going to come in and start to pick the bottom. That's why I wouldn't be that bearish on everything."
Luring foreigners comes at a crucial time for China's equity market as the country's 142 million day traders, who drive more than 80 percent of daily turnover, grow increasingly disheartened. But with better known companies in Hong Kong or New York also trading cheap, not all investors see the need to plunge into A shares.
"There's value everywhere in the China space," said Andrew Mattock, who helps manage Matthews Asia's China funds from San Francisco. While he's been buying H shares after the selloff, he says he hasn't increased A-share exposure. "There's extreme value in Hong Kong and even expensive ADRs are getting interesting."
Robeco's Mio, who earlier this year traveled throughout the U.S., Europe, Australia, and Latin America to pitch A shares to foreign investors, said many refrained from buying because they had only just started researching China's $5.9 trillion equity market. CLSA Ltd.'s Alexious Lee agreed, noting there are about 3,600 companies trading on China's main boards in Shanghai and Shenzhen. That's more than those listed in London or Hong Kong.
"Overseas investors need time to understand the market, get to know the companies and be confident enough to position themselves beyond the top 15 stocks," said Lee, head of China capital access at CLSA. "Now is a great moment to do that."