An Unexpected Default in China Shakes Confidence in LGFVs
(Bloomberg) -- A rally in bonds from China's local government finance vehicles, sparked by the recent easing measures, may be at risk of losing momentum after a surprise bond default by a state-owned firm on Monday.
Xinjiang Production Construction 6th Shi State-owned Assets Management, a cotton trader owned by the local government, missed interest and principal on a 500 million yuan ($72.6 million) note on Monday. The company has features similar to an LGFV, which raises funds for local authorities and carries out infrastructure investments, according to analysts. The default has dampened investors' belief that the Chinese government would bail out such funding platforms, according to SWS Research Co.
China last month introduced a package of fiscal policies aimed at supporting the economy, while a State Council meeting also urged financial institutions to ensure reasonable borrowing demand from LGFVs. Those steps buoyed risk appetite for corporate bonds, so the timing of the missed payments from Xinjiang Production is a surprise, according to a report from TF Securities Co.
Bonds from China's financing vehicles have been among the top performers in the local market as a result of the easing measures. However, cracks began to appear after the latest default with selling seen in LGFV bonds from Xinjiang region, according to Chen Su, bond trader at Qingdao Rural Commercial Bank. Dollar LGFV bonds sold by Yunnan Energy Investment (HK) Co. and Qinghai Provincial Investment Group Co. also fell on Tuesday, according to Bloomberg-compiled prices.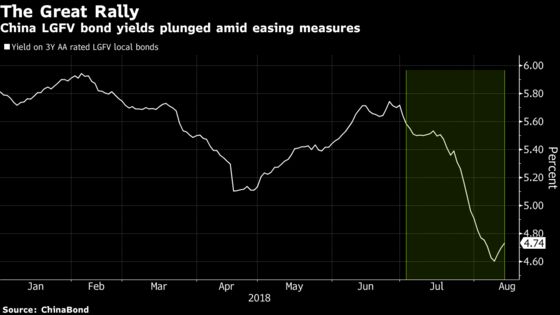 "We are likely to see some sell-off in LGFV bonds after Xinjiang missed payment," said Li Qilin, the chief macroeconomic researcher at Lianxun Securities Co. "The market will also probably reprice LGFV notes to factor in more default risks."
The company has about 2 billion yuan of bonds maturing before mid-March next year, among which 500 million yuan short-term notes will mature next week, according to Bloomberg-compiled data. The company said in an announcement on Tuesday that it faces difficulty in raising funds to repay the 500 million yuan bond due on Aug. 19.
"LGVFs in Xinjiang region may be affected badly by the latest default," Huang Weiping, chief fixed income analyst Industrial Securities Co., wrote in a report on Tuesday. "Many LGFVs in Xinjiang are very weak financially and lack of investor confidence may result in a sharp fall in demand for their notes."