Turkey's Currency Carnage Puts Yuan at 7 per Dollar Back in Play
(Bloomberg) -- The tumult in Turkey has emerging-market currencies on edge -- and may have put the yuan back on the path to 7 per dollar.
Less than a week ago it seemed that the People's Bank of China had scored a win in slowing the yuan's drop. Central bank officials voiced support for their currency, made it more expensive to short it and warned big banks against getting too bearish.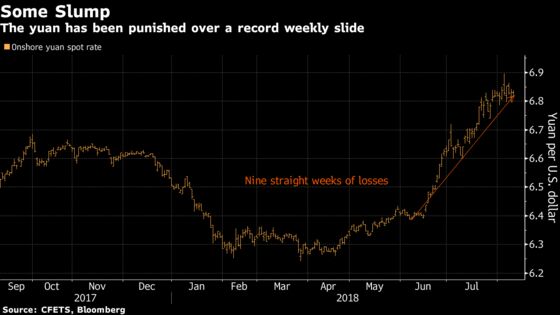 All of that seemed to suggest the end to a record weekly losing streak was in sight. Then on Friday afternoon the yuan's retreat started all over again as tensions between the U.S. and Turkey sent the lira and other emerging-market currencies tumbling. There's speculation that while the central bank's leadership team isn't going to overtly take the currency lower without further provocation from Washington, it is less resistant to a "market-driven" fall.
On Monday, the PBOC set the yuan's fixing at the lowest in more than year, an acknowledgment that it's pretty difficult to resist when everything else is falling against the greenback.
China's yuan was down 0.51 percent at 6.8794 a dollar as of 3:57 p.m. in Shanghai.