BEA Falls Most in Three Years After Cut From Hang Seng Index
(Bloomberg) -- Bank of East Asia Ltd. slumped the most since July 2015 following news it will be cut from Hong Kong's Hang Seng Index along with China Merchants Port Holdings Co., which also tumbled.
BEA closed down 5.8 percent Monday, making it the worst performer on the Hong Kong benchmark, even after paring some earlier losses. China Merchants Port was the third-worst, dropping the most since February. The two stocks will be removed from the index on Sept. 10 and replaced by Sino Biopharmaceutical Ltd. and textiles manufacturer Shenzhou International Group Holdings Ltd.
Sino Biopharmaceutical jumped 4.1 percent Monday and Shenzhou International rose 2 percent. Hang Seng Indexes Co. announced the changes to the 50-member benchmark on Friday.
According to the index compiler's methodology, to be a Hang Seng Index member a stock should typically have a listing history of 24 months on the Hong Kong stock exchange and meet requirements related to market value and turnover.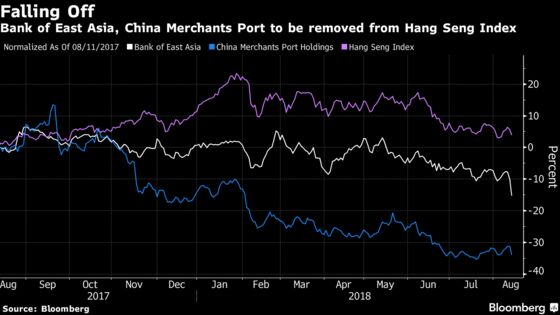 There was no change in the Hang Seng China Enterprises Index in the quarterly review.
BEA's removal comes after a 34-year tenure on the closely watched benchmark, historical data from Hang Seng Indexes show. Shares of the lender, which was incorporated in Hong Kong in 1918, have fallen 16 percent this year, while those of China Merchants Port, an index member since September 2004, have dropped 23 percent.