On Devaluation Anniversary, Yuan Heads for Ninth Weekly Drop
(Bloomberg) -- Three years after China's shock currency devaluation forced the nation into a months-long campaign to prevent a disorderly collapse, the yuan is set to extend its record weekly losing streak.
The yuan rose this week before erasing those gains on Friday afternoon amid concern Turkey's problems may spill over. China's currency fell 0.56 percent to 6.8563 per dollar as of 5:05 p.m. in Shanghai, extending its longest string of weekly losses against the dollar since the modern exchange rate regime was adopted in 1994. The offshore yuan was also set to drop this week.
The slide comes even after the People's Bank of China made it costlier to place short bets against the currency and warned big banks against joining in on bearish momentum trades. China's currency has slumped more than 7 percent over the past three months as a trade fight with the U.S. escalated, concerns about domestic growth deepened and the government took measures to ease its monetary stance.
"Internal and external uncertainties" are unsettling policy makers, even though they are now more tolerant of higher volatility than they were three years back, said Guan Tao, a former director of the international-payments department at China's State Administration of Foreign Exchange.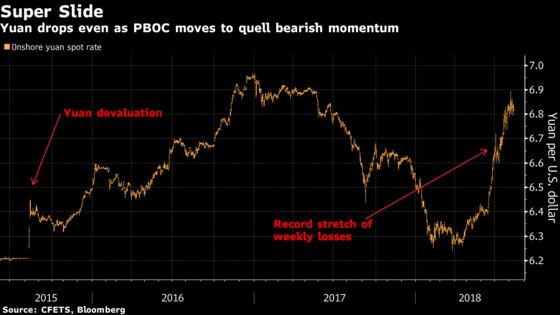 While a weaker exchange rate could help Chinese exporters endure the tariff hikes being imposed by the Trump administration, the 2015-16 cycle of fund outflows and even steeper depreciation still looms large. It took hundreds of billions of dollars in foreign reserves to stabilize the market after the August 2015 devaluation.
China has advantages now that it lacked in the 2015 episode, including capital controls that have made it tougher for domestic investors to pour money overseas and regulatory changes that have welcomed foreign funds into its local markets. Along with consistent pledges to avoid using the yuan as a weapon in the U.S. trade confrontation, that may help explain why forecasters still see the yuan ending the year higher than where it is now.
Further steps are open to China, including more verbal warnings and outright sales of the dollar if expectations for the yuan become one-sided, according to Guan, who worked for SAFE during some of the most important changes in China's currency-market -- from the adoption of a unified exchange rate in 1994 to the global financial crisis.
The onshore yuan's one-year swap points, an indicator of the liquidity of the Chinese currency and traders' expectations for the exchange rate, have been in negative territory for 11 straight sessions.
That means hedging has become cheaper for investors, opening a window for overseas fund managers to buy onshore bonds, according to JPMorgan Asset Management. Indeed, while foreigners slowed their buying of local fixed income in July from June, they were still net buyers.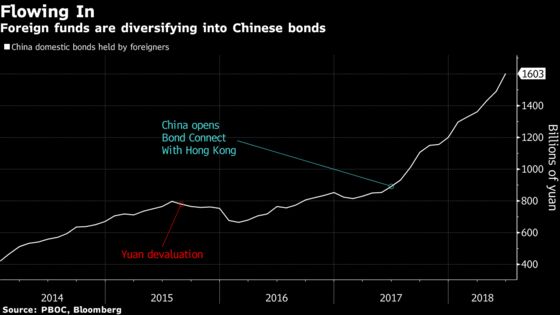 "There's no renewed, excessive panic in the market amid the yuan's steep declines," said Guan. "I don't expect to see massive capital outflows as we experienced in 2016."
On that score, stay tuned for next week's release on the PBOC's monthly foreign-exchange positions data for the latest on capital-flow indications. That's one of two indicators Bank of America Merrill Lynch analysts are watching closely to assess whether to revise their forecasts toward further yuan weakness. The other is the level 92 for the yuan index against a basket of currencies. The Bloomberg estimate of that gauge was at 92.91 Friday.
"A combination of robust portfolio inflows, macro-prudential measures and moral suasion may be making USD/CNY more robust," though more data would be helpful, Claudio Piron and Ronald Man, strategists at the bank, wrote on Thursday, referring to the dollar-yuan ticker.