Delisting Risks Mount as China Tackles Accounting Violations
(Bloomberg) -- China's regulators are ramping up their campaign against listed companies that violate accounting rules.
So far this year, the Shanghai and Shenzhen stock exchanges have already issued delisting warnings to 10 firms found to have breached accounting related regulations, data compiled by Bloomberg News shows. That's doubled the total for all of 2017 and is the highest in at least 9 years.
"The rise of accounting issues is pointing to a tighter regulation," said Bloomberg China Economist Fielding Chen.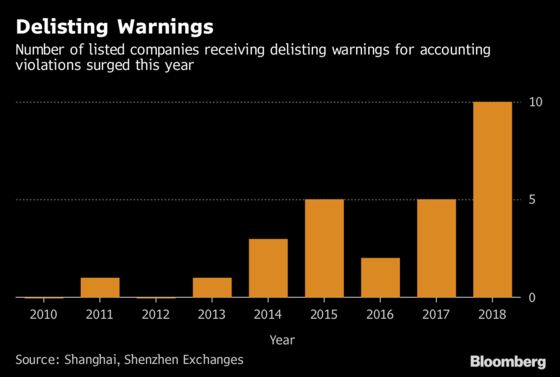 Accounting transparency has long been cited as a concern for investors looking at the world's third largest stock market, which is becoming increasingly open to foreign investment. China Securities Regulatory Commission, the nation's securities watchdog, added audit opinions from accounting firms as a determining factor for delisting warnings in 2012 and has since stepped up punishment of companies violating accounting rules.
Earlier this week, China's securities regulator announced a number of measures to further improve the health of the stock market, including a pledge to "resolutely implement delisting rules." It has been pressing stock exchanges to push harder for delisting of companies guilty of major violations, such as giving fraudulent information during their listing or providing inaccurate disclosures, as well as companies with poor financial performance.
A total of 41 domestically listed companies have received delisting warnings this year for reasons ranging from accounting issues to business failure, already nearing last year's 48, data compiled by Bloomberg shows.
Kaidi Ecological and Environmental Technology Co. is among the latest to receive delisting warnings. The firm said in late June that its auditor issued a Disclaimer of Opinion report on its 2017 financial results, after its parent defaulted on a local bond interest payment.
Companies receiving such warnings are placed on a "*special treatment" list that is subject to trading restrictions on their shares. Their stocks are tagged "*ST" as a risk reminder to investors. The companies are also required to file a public statement to explain why they get regulatory warnings.
At present, 82 companies out of more than 3,600 companies listed in Shanghai and Shenzhen are on the "*ST" list.
The CSRC first created the "special treatment" category for ailing companies in 1998. The daily trading limit for "ST" stocks are 5% compared to 10% for normal counters.