China's Third-Wealthiest Man Is About to Get $1.7 Billion Richer
(Bloomberg) -- China Evergrande Group is about to hand its billionaire chairman a big lump of cash.
The developer, which has regularly bought back its own shares, will hold a board meeting on Aug. 20 to consider paying a special dividend for the past two financial years. Assuming a payout of 50 percent of 2016-2017 profit, as announced in March, that could amount to 11.5 billion yuan ($1.7 billion) for Hui Ka Yan, who owns about 78 percent of the company.
Hui is China's third-richest person, with an estimated wealth of $34.9 billion, according to the Bloomberg Billionaires Index. Evergrande's 2017 annual report shows the 59-year-old was paid 224,000 yuan last year in fees, and no salary. Expectations for a special dividend have helped spur a rally in the company's stock, sending Hui closer to replacing Tencent Holdings Ltd.'s Pony Ma as China's second-wealthiest individual. Ma is worth $37.7 billion.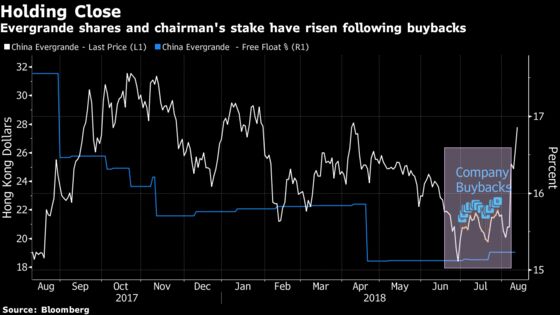 Evergrande shares jumped 8 percent in Hong Kong on Friday, for a weekly gain of 36 percent. The main boost came in a 21 percent surge Tuesday, after the company said first-half profit likely more than doubled. A share-price adjustment on the ex-dividend date will likely offset some of the rally. Following a series of buybacks, Evergrande has a free float of just 15 percent, the third-smallest for a Hong Kong company with a market value above $10 billion, data compiled by Bloomberg show.
Evergrande's biggest weekly advance since 2011 has left short-sellers licking their wounds. The Guangzhou-based company's shares are now up 5.2 percent this year, still a far cry from 2017, when they rallied 458 percent.
Evergrande is due to report first-half results later this month. China International Capital Corp. said in a note Friday it estimates profit to have doubled from a year earlier, and that generous dividend payouts are likely.