Inflation's the One Thing Trump's Trade War Isn't Handing China
(Bloomberg) -- Economists running the numbers on the trade war's impact on China's economy are seeing little sign that inflation is going to show up.
Just a month after the two nations imposed their first round of tariffs on each others' goods, price pressures are barely visible yet. Factory prices rose 4.6 percent from a year earlier, and the consumer price index climbed 2.1 percent last month, a tick quicker than June's 1.9 percent, according to official data released Thursday.
Yet there's a risk of higher prices, with the duties potentially being applied to a majority of China's imports from the U.S. if all the threatened tariffs take effect. Higher prices on agricultural goods like soybeans and alfalfa will quickly feed into food prices, although the prospect that the trade war will dampen demand in the already-slowing economy may keep inflation lower.
"The trade war could push up China's whole year inflation by 0.2 pct points in the worst scenario," said Liu Xuezhi an economist at Bank of Communications Co. in Shanghai. "In the mid and long term, trade frictions for sure will weigh on demand, and could even result in deflation."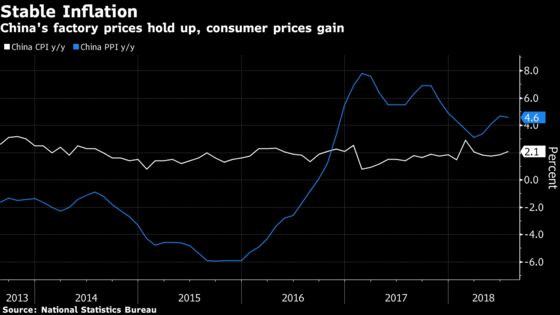 China imposed a 25 percent tariff on American soybeans when the world's two biggest economies fired the first shot in the trade war last month. Soybeans are an important source of hog feed, and rising costs for farmers risk increasing the price of pork, an important component of the country's consumer inflation gauge -- unless a cheaper substitute can be readily found.
What Our Economists Say...
"Tariffs on imports of U.S. agriculture goods may raise prices of some food categories," but still-subdued inflation gives the central bank leeway to further tilt to a pro-growth stance.

-- Chang Shu and Fielding Chen, Bloomberg Economics
Economists expect China's consumer price index will reach 2.1 percent this year, according to the median forecast in a Bloomberg survey, well below the official target of 3 percent. And having helped stoke global reflation last year through surging factory prices, gains in the producer price index are forecast to slow to 3.3 percent.
Still, Tianjie He, an economist at Oxford Economics Hong Kong Ltd., who forecast a modest rise in CPI to 2.5 percent in the second half, said the higher prices of commodity prices and other commodities should continue to support factory inflation in the coming months, with some spill-over onto consumer prices.
A simple regression of historical data implies that a 1 percentage point rise in import prices would correspond to an increase of 0.4 percentage points in PPI inflation and a 0.1-percentage-point gain in CPI inflation, said Lu Ting, chief China economist at Nomura Holdings Inc. in Hong Kong. The additional tariffs on the American goods will add some upside risks to inflation, but the impact is limited as the share of imports from the U.S. against China's total is small, according to Lu.
The trade war impact on U.S. inflation could be more substantial. According to a recent Pimco report, the direct economic impact of the proposed 25 percent tariffs on $200 billion of additional Chinese imports, on top of the already announced 25 percent tariffs on $50 billion of Chinese products, could "add about 0.3 to 0.4 percentage points to U.S. headline Consumer Price Index inflation and subtract a bit more from real GDP growth over the next year."
In the meantime, China's domestic demand is showing signs of weakening, which would act as a drag on prices, economists pointed out.
If Chinese exporters decide to turn increasingly to the domestic market after the Trump administration hikes tariffs, it could lead to an increase of goods supply at home, hence some dis-inflationary risks, Lu said.
CPI "isn't really a key concern for monetary policy at this moment because this year CPI inflation is nowhere," Larry Hu, a Hong Kong-based economist at Macquarie Securities Ltd. said in an interview with Bloomberg TV, adding PPI inflation probably has passed the highest point this year in June and will decline toward one or two percent toward the end of the year, weighing on nominal GDP growth.