Yuan Gives Up Gains, Stocks Slide as China Pushes for Stability
(Bloomberg) -- China's yuan edged lower, wiping out earlier gains after the central bank was said to have met lenders to encourage currency stability, while mainland stocks fell following their best day in more than two years.
The yuan fell 0.14 percent at 6.8372 per dollar as of 5:07 p.m., erasing an early morning gain of 0.48 percent, and the offshore-traded currency slipped 0.32 percent. The Shanghai Composite Index closed down 1.3 percent, stripping back Tuesday's 2.7 percent rally, while Hong Kong's Hang Seng Index added 0.4 percent. The yield on 10-year government bonds rose three basis points to 3.53 percent, though it remains near its lowest in a year.
The People's Bank of China at a meeting Monday urged top banks to prevent any "herd behavior" and momentum-chasing moves in the foreign-exchange market, according to people familiar with the matter. That marked the latest move by China to promote stability in the yuan, after it made betting against the currency more expensive on Friday.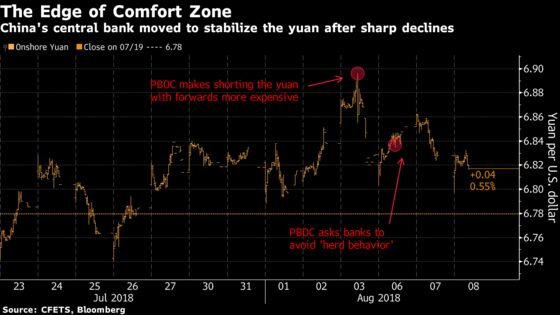 "We could see further near-term recovery in the yuan if the market senses that policy support being provided by Chinese policy makers is able to shore up growth," said Khoon Goh, head of Asia research at Australia & New Zealand Banking Group Ltd. He said news about the PBOC's meeting with banks helped sentiment.
The yuan has weakened more than 6 percent against the dollar in the past three months, the worst performing currency in Asia. The decline has come amid an intensifying trade dispute with the U.S. and signs of a slowing economy at home.
China's equity market is also among the worst in the world this year. The Shanghai Composite has tumbled 23 percent from a January peak, while the ChiNext gauge of small caps and technology stocks has slumped 24 percent from its 2018 high reached at the end of March. Hong Kong hasn't escaped: a gauge of Chinese stocks in the city is 21 percent below its January high, while the benchmark Hang Seng Index has lost 14 percent.
"You can't chase a rally in a bear market, we are far from the bottom yet," said China Vision Capital president Sun Jianbo. "The macro uncertainties haven't changed at all, despite stimulus measures announced by the government. The fundamental reason for this bear market is a weakening Chinese economy."
Sun said increased infrastructure spending is a last resort for the government as services and export sectors lose momentum. "That's not a good sign to investors," he said. "Increasing fiscal spending will just extend the explosion time of the crisis in some traditional industries like property."
Equities got a boost yesterday after the China Daily said the government would roll out more policies to improve investor appetite, citing a state planning official. The China Business Journal also reported that rail investment this year may be higher than originally planned, while news that some fund companies had been approved to launch new retirement products lifted sentiment too.
Great Wall Motor Co. led declines on the Hang Seng China Enterprises Index on Wednesday, sliding 9.9 percent after reporting its July sales volume fell from a year earlier. Dongfeng Motor Group Co. was also among the worst performers on the gauge.
Tencent Holdings Ltd. helped prop up the benchmark Hang Seng Index, as the tech giant rose for a fourth day, its best run in two months. Cnooc Ltd. and PetroChina Co. also were among the top gainers, helped by a higher oil price, while China Oilfield Services Ltd. was the top performing stock on the Hang Seng Composite Index, climbing 10 percent after signing a drilling contract with Italy's Eni SpA.
Some of the day's other highlights:
CNOOC Will Raise Oil & Gas Production on President Xi's Order
Yuan Exits Oversold Territory as PBOC Supports Stability: Chart
China Yield Eyes a New a 2018 Low With Help From Mom and Dad
Great Wall Drops After July Sales; CICC Cuts PT on Competition
What Analysts Are Saying About Equities: China Research Digest