Ping An Weighs Bid For Prudential's Asian Business
(Bloomberg) -- Ping An Insurance (Group) Co. is considering buying Prudential Plc's Asia business, people familiar with the matter said, a deal that would reshape Asia's booming insurance industry and mark the biggest-ever Chinese acquisition.
Ping An has sounded out the Chinese government about whether it would be supportive of a deal, according to one of the people. The Shenzhen-based insurer has also discussed potential financing options with banks, another person said, asking not to be identified discussing sensitive information.
With a $160 billion market capitalization, Ping An trails only Berkshire Hathaway Inc. in the industry. Its cash pile alone is larger than the market value of all but the world's top five insurers. Ping An's deliberations show it is now ready to turn that financial firepower, combined with expertise gained cobbling together dozens of deals in the past five years, into a giant land grab that would add more than $30 billion in annual revenue.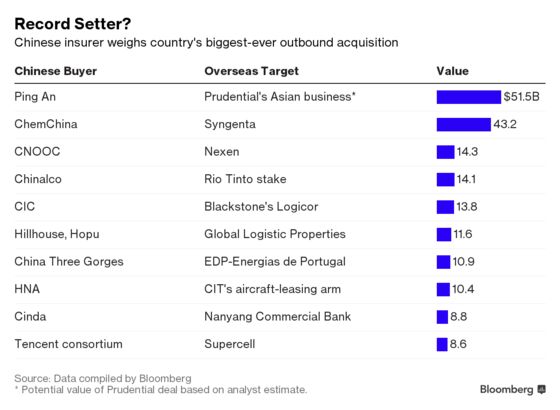 Deliberations are at an early stage, the people said, and it wasn't immediately clear how a deal to gain control of Prudential's Asian business would be structured. The U.K. company hasn't been approached, one person said. Shares of Prudential rose 3.7 percent in London on Wednesday on the news, the biggest gain since March 14.
Both companies declined to comment.
Prudential's business in Asia, including its Eastspring asset management unit, could be valued at 40 billion pounds ($51.5 billion), according to a sum-of-the-parts estimate from Panmure Gordon & Co. analyst Barrie Cornes. Potential buyers may well have to pay a premium to that to gain control, Cornes said. It would mark Ping An's biggest-ever acquisition by far, and would likely be one of the largest Chinese overseas deals in a year marked by growing resistance to investment from China.
Any acquisition would present many hurdles, not least an expensive price tag, according to Bloomberg Intelligence insurance analyst Steven Lam. China's budding life insurance, healthcare and fintech growth are "already enough to keep Ping An busy over the coming years," he said. "Nevertheless, expansion overseas remains a possibility."
Ping An had about $81 billion of cash and equivalents as of March 31 after generating $26 billion of free cash flow in the first quarter, data compiled by Bloomberg show.
Shares in Ping An have retreated 13 percent this year in Hong Kong, trimming its market value to $160 billion. Prudential was valued at 46 billion pounds as of Tuesday's close.
Prudential is bullish on Asia and wouldn't consider a sale of its business in the region, Chief Executive Officer Mike Wells said in a Bloomberg Television interview on Wednesday. "This is a highly under-penetrated, fast-growing market" for insurance that also offers asset management opportunities.
First-half operating profit from Prudential's Asian business jumped 14 percent to 1.02 billion pounds ($1.3 billion) on a constant exchange rate basis, the insurer said Wednesday. Asia contributed about 42 percent of Prudential's total operating profit during the period, up from 35 percent for all of last year, data compiled by Bloomberg show.
Wells is planning to spin off Prudential's U.K. operations, to focus on faster-growing markets such as Asia. The 170-year-old firm will also hold on to businesses in Africa and the U.S., while splitting M&G Prudential -- formed last year through the combination of its U.K. asset-management business with European insurance assets -- into a new company.
Ping An has been under pressure to find new areas of growth after China's crackdown on financial risk limited prospects for the nation's insurance firms. It's been busy buying up stakes in listed companies including property developer China Fortune Land Development Co., and was part of a group that successfully delisted Qihoo 360 Technology Co. from U.S. markets in 2016 and relisted the company at several times its previous value in Shanghai.
Ping An is ahead of its peers when it comes to investing in China's health care sector, according to Lam. It's said to be leading a multibillion-dollar acquisition of bio-pharmaceutical company China Biologic Products Holdings Inc., and that purchase would follow a slew of investments in traditional Chinese medicine producers including Yunnan Baiyao Group Co. and Japan's Tsumura & Co.