Iron Ore Surges, Copper Sags as Investors See Different Fortunes
(Bloomberg) -- It's a tale of two metals that are fundamental to China's outlook: while iron ore's on a tear, copper is under heavy pressure.
In Singapore, SGX AsiaClear iron ore futures spiked toward $70 a metric ton, trading 2.8 percent higher at $69.57 at 8:45 a.m. in London. By contrast, copper sagged 1.4 percent to $6,120 a ton on the London Metal Exchange.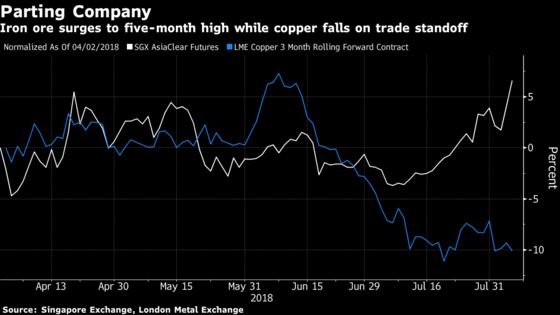 The divergence highlights the metals' different concerns. Copper's lost ground in the past two months as trade tensions surge, denting the outlook for economic growth. By contrast, iron ore's made headway, aided by a pollution crackdown in China that's supporting demand for higher-quality material.
The "ferrous market is a regional market," Zhu Yi, an analyst at Bloomberg Intelligence, said by phone from Hong Kong, adding that it's been aided by recent production curbs, the State Council's stimulus measures, and sentiment is fairly bullish. "Copper is a more global product, a barometer of the global economy. Sentiment has been greatly affected by the trade war."