Victor Li Delivers Higher Profits in Debut as CK Group Head
(Bloomberg) -- Hong Kong tycoon Victor Li's two main companies posted higher earnings in the first half, giving the head of the CK group of companies a positive start to his tenure after taking over from his famed father.
Net income at flagship CK Hutchison Holdings Ltd. rose 13 percent to HK$18 billion ($2.3 billion) in the six months ended June, while CK Asset Holdings Ltd.'s underlying profit increased 20 percent to HK$12.1 billion, according to the companies on Thursday. Li, whose father is Hong Kong's richest man, became chairman of both firms in May.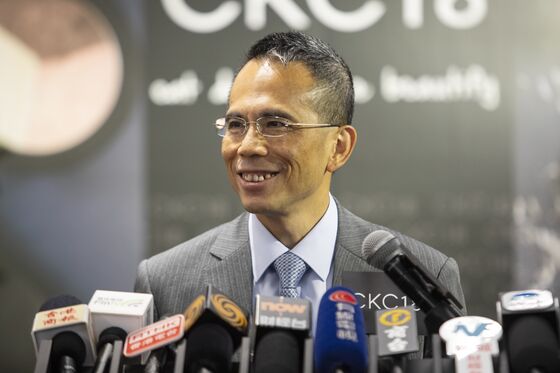 The results help kick off a new era for CK, which had been led by billionaire Li Ka-shing for nearly seven decades before his recent retirement, and perhaps Hong Kong. The younger Li, 54, will face the challenge of reinvigorating an empire whose businesses range from utilities to supermarkets and ports, which have been perceived as old-economy operations facing slowing growth.
The younger Li hasn't wasted time in making his mark. Since taking over, he has launched a slew of multi-billion-dollar acquisitions, displaying a penchant for deal-making that his father was known for. The proposed purchases include an offer to buy Australian gas pipeline operator APA Group and the remaining stake of an Italian mobile-phone joint venture.
As to CK Hutchison, profits were in line with the HK$17.9 billion estimate by UBS Group AG and rose at the fastest pace since a 2015 reorganization. The company benefited from infrastructure investments last year including purchase of power distributor Duet Group and strong growth from Husky Energy Inc. on higher oil prices.
CK Hutchison shares fell 2.4 percent to close at HK$82.85 before the company announced its results amid a broader rout across Asian equity markets. CK Asset shares dropped 2.6 percent to HK$58.50.
Both companies proposed higher interim dividends, responding to a longtime gripe by minority investors. CK Hutchison and CK Asset both proposed raising payouts by about 12 percent from a year earlier.
It's the first for CK to increase dividends by more than 10 percent, Canning Fok, group co-managing director of CK Hutchison, said in analysts' briefing.
"Hopefully we will continue to do well," Fok said. If the trend holds, investors could look forward to the year-end dividend becoming an "exciting situation," he said.