China's Stock Slump Deepens on Tariff Concern; Tencent Tumbles
(Bloomberg) -- Chinese equities extended their declines Thursday, as concern over a trade dispute with the U.S. continued to weigh on some of the world's worst-performing stock indexes this year.
The CSI 300 Index fell 2.2 percent at the close, extending Wednesday's 2 percent decline. The Shenzhen Composite Index slid 2.4 percent to its lowest close since February 2015. Tencent Holdings Ltd. lost 2.8 percent for a six-day loss of 9.2 percent. That weighed on the Hang Seng Index, which dropped for a fourth day.
"The trade issue continues to evolve and weigh on the market," said Shen Zhengyang, a Shanghai-based analyst with Northeast Securities Co. "It's a dilemma for China now, as it would put itself in a passive position if it doesn't fight back, while counteractions could cause damage to both sides."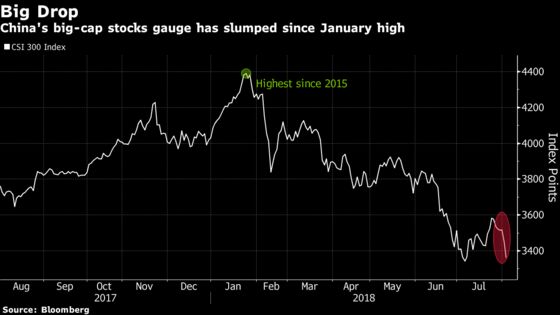 The CSI 300 gauge of large mainland-listed companies is down 23 percent from a Jan. 24 peak. Chinese equities have been battered by concern about the U.S. trade rift, a slowing Chinese economy, weaker yuan and Beijing's deleveraging efforts.
The Trump administration is weighing whether to increase proposed tariffs on $200 billion of Chinese goods to 25 percent from 10 percent. China has responded by warning the U.S. against "blackmailing and pressuring" it over trade and vowed to fight back if tariffs were increased. Chinese policy makers on Tuesday signaled they will focus more on supporting economic growth, saying the external environment had "significantly changed."
"Investors were expecting obvious easing from the Politburo meeting, but the tone was more conservative," said Zhang Gang, Central China Securities strategist in Shanghai. "Also, there have been worries over the escalation of the trade war between China and the U.S. As long as there are uncertainties surrounding the trade war, investors will continue to sell their holdings."
The yuan fell 0.22 percent to 6.8300 a dollar as of 4:20 p.m. in Shanghai, extending its decline over the past six months to 7.7 percent. The yield on 10-year sovereign bonds rose 2 basis points to 3.49 percent.
Measures of consumer and tech shares were among the worst performers of the CSI 300 gauge's 10 subgroups. Kweichow Moutai Co., a favorite of investors and analysts, fell 2.8 percent, despite reporting a 40 percent increase in first half net income on Wednesday. Macau casino stocks plunged in Hong Kong after Wynn Resorts Ltd. reported declines in profit and revenue. Wynn Macau Ltd. fell 9.6 percent, the most since October 2011.
Along with the Shenzhen Composite's slide, the ChiNext gauge of small caps and tech stocks slid 2.1 percent. Zhang said investors were worried that the first-half earnings of small caps could be worse than expected.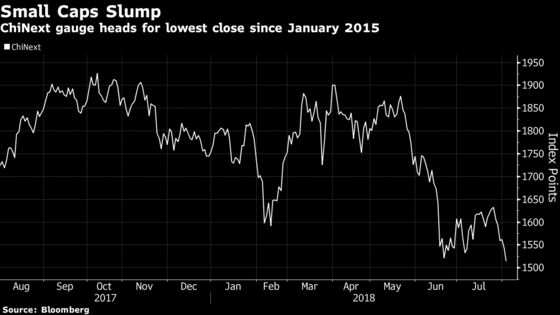 Hangzhou Hikvision Digital Technology Co. and other stocks linked to China Electronics Technology Group Corp. slumped after CETC appeared on a U.S. list of Chinese companies potentially posing security risks. The U.S. Department of Commerce said 44 entities on the list will need additional license requirements on all exports, re-exports and transfers of any U.S.-origin items.
Here's what other strategists and investors had to say about the slump:
Ken Chen, analyst at KGI Securities Co.
Market sentiment has deteriorated, as investors realize they've been too optimistic on the effect of policy supports after the July PMI missed expectations.
Share prices continue to correct from the gains since mid-July, as investors wait to see if upcoming data such as domestic investment and consumption would signal some positive impact from fiscal stimulus.
Given exports are unlikely to deliver good news, the Shanghai Composite could test below 2,700 if infrastructure investment also fails to boost economic fundamental.
Note: The Shanghai stock measure dropped 2% on Thursday to 2,768.02
Steven Leung, executive director at Uob Kay Hian (Hong Kong) Ltd.
The major concern is still the economy. There are a lack of indicators or policies to make people believe the Chinese economy will get better.
Market turnover is very high in China, and many institutions are dumping stocks that relatively outperformed this year, which is a very bearish sign.
Nader Naeimi, head of dynamic markets at AMP Capital Investors Ltd. in Sydney
Trade tensions targeted toward China don't help investors, and more importantly the unwinding of tech froth is infecting local investor sentiment. There is a huge amount of froth in the global tech story and a few high-profile earnings misses are causing a chain reaction in China. Tencent is for example tumbling.
And with the perceived safe stocks selling off, that adds to the dark investor mood with people throwing babies out with the bath water.
Qi He, fund manager at Huatai Pinebridge Fund Management Co.
Fear is brewing over more all-round trade sanctions from the U.S. due to the trade restrictions on 44 Chinese entities. The market is dealing with renewed expectations that the U.S. will do more to make things difficult for China.
Fei Xiaoping, analyst with Dongguan Securities Co.
Today's slump is mainly because of a burst of anxiety on recent negative issues, including U.S. tariffs and fluctuations in the FX market. Market sentiment is very fragile and the market is still trying to find a bottom.
However, I am not that pessimistic about the stock market for August because the downside is limited for the Shanghai Composite Index on the back of solid financial results and relatively low valuations of core blue-chip stocks.
Linus Yip, strategist at First Shanghai Securities in Hong Kong
Markets are tumbling today as investors are only digesting the trade war news gradually as tension escalates. Besides, the 10-year U.S. Treasury yield climbed more than 4 basis points overnight after the FOMC meeting highlights plan to hike in September.
This has a negative impact on stocks as it will lead to further pressure on fund flows to EM markets, while inflows have already slowed since the second quarter. High-valuation shares are likely to fall further as investors adjust expectations given they are starting to doubt the stability of high growth.
Song Jiangbo, analyst at Wanlian Securities Co.
There continues to be pocketing of gains after the rise last week but more importantly this shows that the market is quite disappointed with the tone of the Politburo meeting. The tone was much less lenient that expected, and now people are pricing in the letdown.