China Charges Former Internet Censorship Chief With Corruption
(Bloomberg) -- China has charged its former top internet censor with corruption, formalizing the demise of an official who became synonymous with the country's strict control of online information.
Lu Wei was charged with accepting bribes, taking advantage of his official position and using other officials to seek profits, according to a statement issued Monday by the Supreme People's Procuratorate, China's top prosecutor's office. The case will be handled by a court in the coastal city of Ningbo, China's official Xinhua News Agency has reported.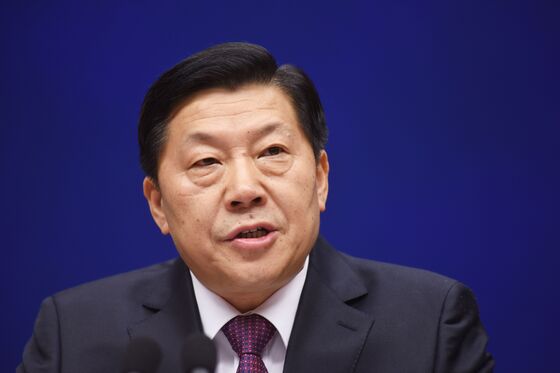 Lu ran the Cyberspace Administration of China from its launch in 2014 to 2016, and met frequently with the likes of Apple Inc. Chief Executive Officer Tim Cook and Facebook Inc. founder Mark Zuckerberg.
He was nicknamed China's "internet czar" because he oversaw regulations that amounted to the biggest crackdown ever on freedom of expression by China's web users. Facebook, Google and Twitter are among the internet giants whose core services are blocked in China, in part because their content is outside of Beijing's control.
The charges against Lu spanned his career across a slew of powerful government bodies, including Xinhua, the Beijing city government, the CAC and the Communist Party's propaganda department, according to the prosecutor's statement. He was officially put under investigation in November, becoming the first senior official to fall after President Xi Jinping secured a second term in office.
The charges against Lu signal Xi is pressing on with his signature anti-corruption campaign, which has already netted more than 1.5 million officials. China on Monday also announced that two other former officials would be prosecuted: Mo Jiancheng, former head of an anti-graft team sent to the Ministry of Finance and Zhang Jiehui, a former legislator from the northern Chinese province of Hebei.
Lu's demise is unlikely to indicate a softening of China's tight grip on the internet. On Friday, the popular live-streaming app Bilibili vanished from app stores run by Xiaomi Corp. and Huawei Technologies Co. In April, one of the country's fastest-growing internet startups, Beijing Bytedance Technology Co., was ordered to shut a popular joke-sharing app.