Face of Finance May Soon Be More Female, at Least in China
(Bloomberg) -- More women than men in China are taking the notoriously difficult Chartered Financial Analyst exams, an indication that a gender shift may be underway -- at least in the world's second-largest economy.
In the latest CFA exam in June, 52 percent of test takers in China were women, compared with just 29 percent in the U.S.
"It really has been very stunning," Heather Brilliant, the incoming chairwoman of the CFA Institute, said in an interview in Vancouver. where the board met last week. "The membership is still relatively small, but there's a tremendous amount of growth in that market."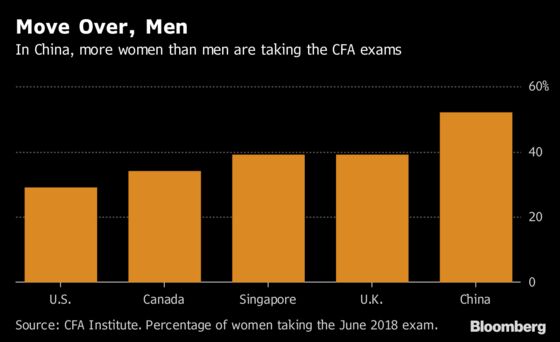 The institute's grueling three-level program has helped train more than 150,000 so-called Chartered Financial Analysts worldwide. A record 227,031 sat for the latest exam in June in pursuit of a designation that promises better jobs, higher salaries and a deeper understanding of the industry.
Success only comes to a few. The average candidate spends more than 300 hours preparing for the exams, each involving more than 2,000 pages of curriculum and typically taking more than three years to complete. Fewer than one-in-five are ultimately successful.
It will take a lot of female candidates globally to close a gaping gender gap: only 18 percent of CFA holders worldwide are women.
"I do think there is a pipeline problem in our industry," said Brilliant, who is also managing director Americas at First State Investments, a unit of Commonwealth Bank of Australia with about $171 billion of assets under management.
A big step is convincing more women to step up to the plate in the first place -- like applying for a job or taking the CFA exams. In China, "there seems to be a greater willingness to take on all the exams that are required, and I think that it's partially a cultural issue - they're not considered to be as intimidating as perhaps they are in the U.S."
The Charlottesville, Virginia-based CFA Institute is working with organizations to ensure job descriptions don't put off women, and interview panels are more diverse, she said.
For the first time this month, the institute elected two women to its two top leadership positions. Brilliant and Vice Chair Diane C. Nordin start their one-year term on Sept. 1.