China Easing Signs Send Yuan and Bonds Lower as Stocks Rally
(Bloomberg) -- China's efforts to support its economy spurred gains in stocks, sent bonds lower and pushed the yuan to its weakest in 13 months.
The Shanghai Composite Index rose 1.6 percent on Tuesday for its biggest three-day rally since March 2016. Railway builders and raw material producers jumped on hopes China will boost spending on infrastructure. The yield on 10-year sovereign debt rose five basis points amid speculation investors will shift funds to riskier securities issued by local government financing vehicles. The yuan slid 0.47 percent to 6.8178 per dollar as of 4:57 p.m. local time.
Measures including special bonds for infrastructure spending were announced late Monday following a State Council meeting in Beijing, where the government also pledged to balance easing and tighten policy to keep liquidity sufficient. It also said fiscal policy should be more proactive.
The meeting sends a positive signal to the market, said CMB International Securities Ltd. analyst Daniel So. "Investors are expecting fiscal and monetary policies to be loosened a bit in the second half," he said. "Funding for infrastructure projects is expected to be guaranteed, so construction-related sectors such as cement makers are surging today. As earnings season is coming, the markets could rise further on some positive profit alerts."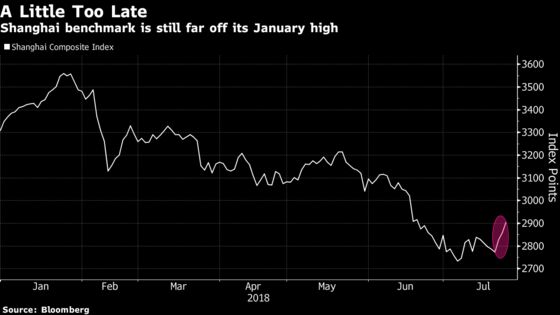 China Communications Construction Co. and China State Construction Engineering Corp. were two of leading drivers of Tuesday's gains on the Shanghai Composite Index, rising by the 10 percent daily limit and 6.8 percent, respectively. The benchmark's has rallied 4.8 percent in three days, though it's still down 18 percent from its Jan. 24 high and is one of the world's worst-performing markets over the past six months.
The yuan is also underperforming peers. The currency has weakened 4.6 percent against the dollar over the past month, more than any other major currency. The slide has sparked speculation that China is using depreciation to blunt the impact of U.S. tariffs, with President Donald Trump saying the decline is "taking away our big competitive edge" -- a charge denied by Beijing.
China's sovereign bonds declined, with the benchmark 10-year yield rising from a one-year low reached last week to 3.57 percent on Tuesday. Commercial banks will use the extra capital unleashed from the policy easing to buy corporate bonds, which will reduce the demand for government debt in the near term, Citic Securities Co. analysts led by Ming Ming wrote in a note Tuesday.
"The policy easing will give stocks and corporate bonds a much-needed boost in the short term, as it helps improve risk appetite and gives investors more capital to buy riskier assets," said Xia Le, chief Asia economist at Banco Bilbao Vizcaya Argentaria SA. "It will pressure the yuan, as China's monetary policy becomes more divergent from that of the U.S."
Elsewhere, health-care stocks continued to slide as a scandal over vaccines rattles the sector. The company at the center of investigations, Changsheng Bio-Technology Co., slid by the 10 percent limit for a seventh straight day in Shenzhen. In a statement to the stock exchange, the company said its chairman and three senior executives were under police investigation. President Xi Jinping weighed in, calling the violations shocking.