China Premier Orders Probe of Vaccine Makers After Violation
(Bloomberg) -- Chinese Premier Li Keqiang ordered the government to investigate the nation's vaccine industry after violations found at a biologics manufacturer heightened consumer concerns about drug safety.
Shares of vaccine makers tumbled in Shanghai and Shenzhen after Li said China will crack down on crimes that endanger people's lives and hold perpetrators responsible. The premier's order followed an outcry on social media after Changsheng Bio-Technology Co. was fined for having produced and sold low-quality vaccines for infants, as well as found to have fabricated production and inspection data on a rabies vaccine. China's drug regulator will vet all vaccine makers, China Central Television reported.
Social media users on platforms WeChat and Weibo criticized what many said was lax enforcement by the regulator and government on vaccines. Worried parents also shared articles on how Chinese families can vaccinate their children in Hong Kong, while expressing concern about fake or poor-quality vaccines available in China.
Demand for vaccines in China is on the rise, driven by loosened family planning policies, increasing awareness and an aging population. The country's 30 billion yuan ($4.4 billion) vaccine market is expected to double by 2021. The rapid growth of the vaccines market has also been tainted with safety issues, with consumers in an uproar in 2016 over expired vaccines being sold nationally.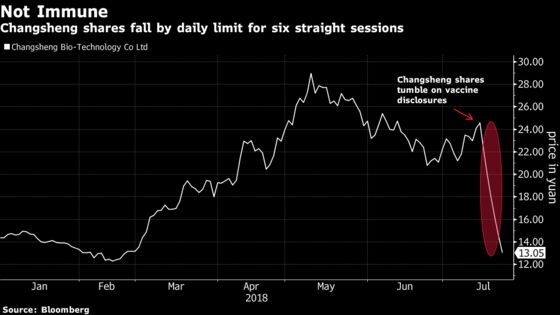 China's securities regulator is also investigating Changsheng over disclosure violations, the company said in a statement to the Shenzhen stock exchange on Monday. Changsheng, which has a market capitalization of more than $2 billion, said it will cooperate with the investigation. The stock dropped by the 10 percent daily limit as trading resumed following a suspension during morning trading. The shares fell that amount every day last week after the company disclosed the violations.
The biologics manufacturer said on July 19 it was fined about 3 million yuan ($500,000) for producing and selling poor quality infant vaccines, after China's drug regulator last year probed violations in its manufacturing of a childhood vaccine that protects against tetanus, whooping cough and diphtheria. The company said it has stopped production of the infant vaccines.
That disclosure came after Changsheng said on July 16 that it halted production and recalled a rabies vaccine under orders from the government. The company, based in the northeastern city of Changchun, issued an apology to vaccine users and investors in a statement Sunday evening.
Li's call for an industry-wide investigation caused stocks to tumble, with shares of many vaccine companies falling by the daily limit on Monday. Shenzhen Kangtai Biological Products Co., which produces vaccines against hepatitis B and pneumonia, lost 10 percent, as did Chongqing Zhifei Biological Products Co., the marketing partner in China for Merck & Co.'s Gardasil vaccine against the human papilloma virus that can cause cervical cancer. Both have seen their share prices jump more than 57 percent this year on growing demand for vaccines.
In the 2016 vaccines scandal, more than 200 people were detained after an investigation revealed improperly stored or expired vaccines had been illegally sold throughout the country. Product safety is a key issue in the country, where consumers still remember a tainted-milk scandal that poisoned thousands of children a decade ago. At the same time, China has overhauled regulations to bring innovative new drugs to the world's second-largest pharmaceutical market.