China's Yuan Stabilizes After Rocky Morning, Stocks Rebound
(Bloomberg) -- China's markets ended Friday on a stronger footing, with the yuan reversing an early slump spurred by the central bank's move to weaken the daily currency fixing by the most since 2016.
The Chinese currency was little changed at 6.7790 per dollar at 5:36 p.m. in Shanghai after falling as much as 0.5 percent to mark a fresh one-year low. Dollar selling by a big Chinese bank helped stem the morning losses, traders said. Stocks also changed course, surging in the afternoon session after a report said regulators will loosen rules on the asset management industry.
The yuan's decline of more than 4 percent over the past month, the steepest among major currencies, has provoked fresh speculation about whether the decline is a natural consequence of policy easing efforts to cushion a slowing economy, and how far officials will let it go. U.S. President Donald Trump told CNBC that the currency is "dropping like a rock," putting America at a disadvantage as trade tensions escalate.
"The PBOC will only let the yuan devalue in an orderly fashion at best, instead of letting it depreciate freely, in order to avoid the risk of capital flight," said Ngan Kim Man, co-head of treasury at China Everbright Bank Co.'s Hong Kong branch.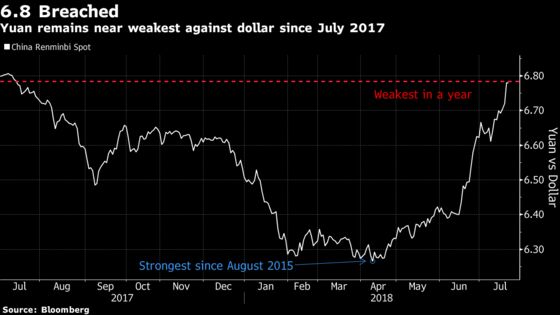 The Shanghai equity benchmark rallied 2.1 percent, snapping a five-day losing streak, and a gauge of financial companies closed up 3.8 percent, its biggest gain since August 2016. The Hang Seng Index in Hong Kong rose 0.8 percent. The yield on 10-year government debt climbed 7 basis points to 3.52 percent, the biggest increase since October.
Analysts said a 21st Century Business Herald report that mutual funds will be allowed to buy non-standard products helped drive the moves. The news boosted risk appetite as previous expectations were for China to ban the buying of such products, said Frances Cheung, head of Asia macro strategy at Westpac Banking Corp. in Singapore.
"The news is marginally negative for government bonds, because banks would be able to allocate to corporate bonds in the future under the new rule, while they have been mainly buying government bonds this year," Cheung said. "But the rise of government bond yields is likely to be short lived, as they should be capped by downside pressure on economic growth and foreign inflows to government bonds."
Bets for further monetary easing are weighing on China's currency, and there have been only limited efforts by the authorities to step in. The rapid descent has undermined confidence in other emerging market peers and helped fuel a plunge in commodity prices.
The yuan earlier tumbled after the People's Bank of China weakened its daily reference rate for the currency by the most in two years, even though the fixing was in line with analyst estimates. A big Chinese bank was seen offering to sell the dollar when the yuan weakened to 6.81 this morning, according to traders. The bank stopped selling after the yuan trimmed its loss, the traders said.
"People have been overly sensitive to the yuan so when it breached the psychological level of 6.8 it triggered a selloff across the board -- and when that reversed it triggered short covering" in stocks, said Alex Wong, a director of asset management at Ample Capital Ltd. in Hong Kong. "I would not be too enthusiastic about this recovery because the overall tone remains cautious as people are concerned about the debt in China and the yuan."