Yuan Nears `PBOC Put' Level That Could Help Markets: Nomura
(Bloomberg) -- A slump in risk assets caused by the decline in China's yuan could soon turn to boom should the People's Bank of China shift toward stimulus mode in the world's no. 2 economy, according to Nomura Holdings Inc.
"As Chinese financial conditions further deteriorate and market stress worsens, we actually perversely push closer to the risk-asset positive outcome of escalated PBOC stimulus and easing measures," said Charlie McElligott, a strategist with Nomura's equities group, in a note to clients Thursday. "Essentially, we are nearing the pain-point of the 'PBOC Put.'"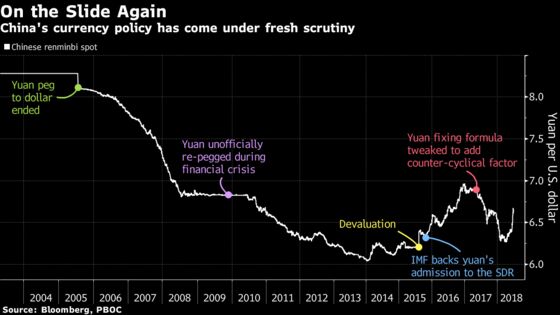 Stimulus measures from the central bank could stabilize commodities and materials, according to New York-based McElligott. This could boost global-growth positioning once again, which would be positive for cyclical securities and negative for Treasuries and defensive assets, he said.
Further market weakness could also help reduce ongoing trade tensions, he added.
"An additional 'right tail' scenario is that the worse things get in China in the near-term, the more likely it is that we too could see Chinese concessions in the trade war with the U.S.," he wrote. That "could destroy market tension and volatility and drive a gap higher in risk sentiment," he said.
The Chinese currency has tumbled to a one-year low, down about 4.5 percent against the dollar in the past month, with investors being caught off guard by the PBOC's seeming comfort with its slide. There are tentative signs of official action to support growth. Banks are being offered cash and given instructions to boost lending, according to the banking and insurance regulator.
The offshore yuan was little changed at 6.7914 per dollar at 10:49 a.m. in London Friday, having wiped out a fall of as much as 0.9 percent after signs of action to stem the decline.
Yuan weakness has had reverberations through other markets, helping take Asian currency peers lower and weighing on demand for the region's stocks. China's own equity benchmarks have fallen into a bear market. Commodities have also tumbled.
Investors are on watch for parallels to 2015, when China unexpectedly devalued its currency and sent a shockwave through global markets. A depreciating yuan has the potential to trigger a "global disinflationary impulse" that, with a stronger dollar, negatively affects commodities, fixed income, equities and emerging market assets, according to McElligott.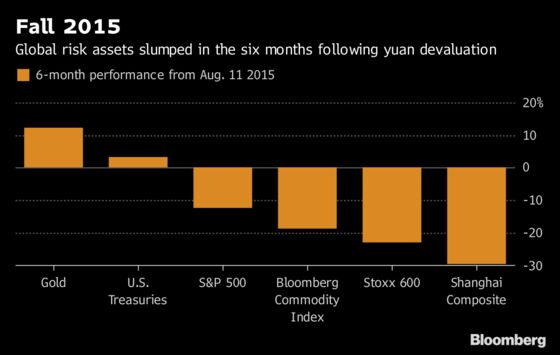 "The cumulative move in the offshore deliverable yuan over the past 30 sessions is 6.6 percent, a five standard-deviation event across all returns over the past 10 years and now significantly larger than the devaluation of August 2015," he wrote.