Volvo Executive Calls for Zero Tariffs on World's Biggest Markets
(Bloomberg) -- Eliminating all tariffs on cars imported into China, the European Union and the U.S. would be the best way to help automakers and consumers in the world's largest markets, Volvo Cars Chief Executive Officer Hakan Samuelsson said.
"The best thing for the car industry in China, Europe and the U.S. would be to have no protection, and for it to compete on equal terms," Samuelsson said Thursday in an interview after the carmaker owned by China's Geely Automobile Holdings Ltd. reported earnings for the first six months of the year.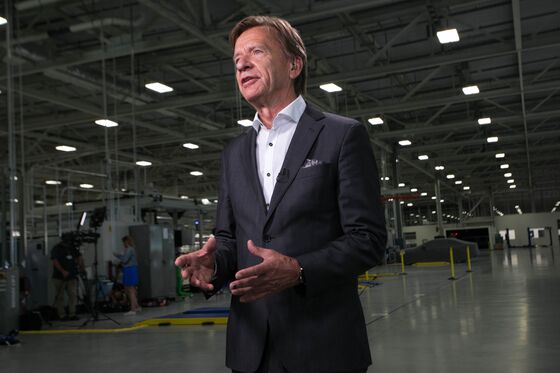 For now, politicians are going in the other direction: In what China has called "the largest trade war in economic history," autos have become an important weapon, with the U.S. threatening to increase duties on European cars, and China hiking tariffs on vehicles from the U.S.
Still, European Commission President Jean-Claude Juncker will meet President Donald Trump next week to explore possible talks to cut car tariffs for several key trade partners, people with knowledge of the plans said this week. And U.S. Ambassador to Germany Richard Grenell told German auto-industry executives this month that Washington was seeking talks with the EU and Berlin on lowering car duties to zero, according to people briefed about the meeting.
So far, the spat has done little to damp Volvo Cars' sales, which have increased at a rapid clip in recent years as the company has revamped its offering. Volvo Cars also built a new factory in the U.S. to supply the local market. Longer term, Samuelsson said, increasing trade barriers could force it and other automakers to invest more in local production and pass on the cost to consumers.
"We risk the same consequences as the rest of the industry," Samuelsson said. "It would be very negative for the whole auto industry, and would affect the entire economy in the western world."
The U.S. charges tariffs of 2.5 percent on cars and 25 percent on pickups and delivery vans, while the EU's levies are at 10 percent. In the ongoing spat over trade, Trump last month threatened a 20 percent tariff on autos imported from the EU.
For now, Volvo Cars is looking at using the flexibility it has in its global production system to fend off any negative effects of the trade spat. The company makes vehicles at two factories in China, one in Gothenburg, Sweden, and one in Ghent, Belgium, in addition to the plant in Charleston, South Carolina, that was opened last month.
Volvo AB, a publicly traded truckmaker, sold the car brand almost two decades ago, though the two companies again share some common ownership: Geely bought a stake in the truckmaker late last year.